Cardiff are confident their FA complaint will be handled in the appropriate manner
Cardiff say they have "every faith" that their official complaint to the Premier League will receive a fair hearing.
Last Updated: 18/04/14 8:08am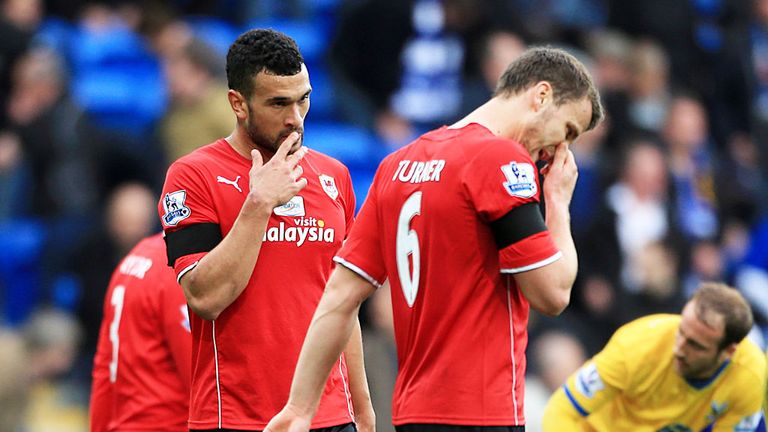 However, the club say they will not discuss the particulars of the case until the investigation has been concluded.
Cardiff's complaint concerns their belief that their team was leaked to Crystal Palace ahead of a Premier League match between the two sides earlier this month, which Palace went on to win 3-0.
And it has been reported that Cardiff have argued that the result should not be allowed to stand.
However, a Cardiff spokesman said: "A formal complaint has been submitted, concerning what we consider to be a serious breach of Premier League rules
"We have asked for an investigation into the matter, which is now in the hands of Premier League officials, who will report their findings in due course.
"At this time it would be inappropriate to discuss any specifics while the investigation is ongoing.
"The club has every faith in the process and will welcome the views of the Premier League."
The Premier League will decide whether Cardiff's complaint should be taken forward and a key issue will concern whether any regulations have been breached, even if the leaking allegation is proven.
If the complaint is taken forward, it may be handled by an independent commission or the Premier League's board.
Palace sporting director Iain Moody worked for Cardiff until earlier this season and then took up a post at Selhurst Park in November.
And it has been reported that Cardiff believe Moody may have used contacts established during his time with the Welsh club to find out their starting line-up.
But Moody has described the allegations as "incredibly, extraordinarily untrue" and Palace have also denied the claims.
Cardiff are currently second-bottom in the Premier League standings, three points from safety, while Palace have climbed to 11th after a good run of form.