Cardiff boss Ole Gunnar Solskjaer looking forward to playing Sunderland
Cardiff boss Ole Gunnar Solskjaer is relishing the prospect of playing fellow strugglers Sunderland on Sunday.
Last Updated: 25/04/14 4:11pm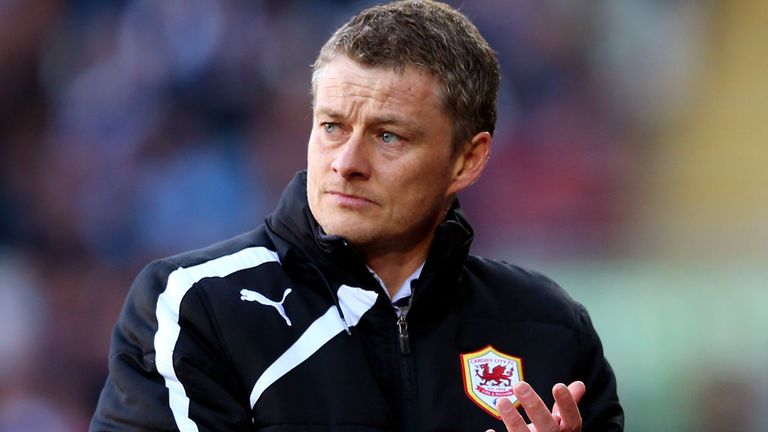 The teams meet at the Stadium of Light, live on Sky Sports 1HD, with third from bottom Cardiff one point ahead of their hosts, who have played one game fewer.
Solskjaer's team will head north following victory at Southampton and a draw against Stoke, and a victory at Sunderland could take them out of the bottom three with just two more games remaining.
But Sunderland have been in impressive form of late, holding Manchester City to a draw at the Etihad and then winning away against Chelsea last weekend.
"If you look at the league table, it's just as big for both of us," Solskjaer said.
"It is still so tight down at the bottom that a win will be hugely needed for both of us, while a draw is probably no good for either of us.
"I wouldn't be in football if I was nervous. You have to look forward to games. I used to do that as a player, and I do that now. The waiting time is the worst.
"At the moment, it is just about the Sunderland game. We go into it focused, and we have prepared really well. I can't wait."
Cardiff looked down and out when they slumped to a 3-0 home defeat against Crystal Palace just three weeks ago, but Solskjaer concedes the last two results have lifted everyone at the club.
"I think the last few weeks have boosted all the players," he said. "The last two games, definitely, have given us a boost. We are going into this game in good form, which is a big thing.
"We are away from home, but we went away to Southampton and beat them. We go there with belief that we can get something.
"It's about us going up there and performing, sticking together as we did against Southampton and Stoke, and continuing what we have done this week.
"There are three games to go now, and we are within two points of Norwich. We have got a chance.
"You do think that a win is what you need. A draw would not be favourable for either of us. Fulham and Norwich would probably be happy with a draw.
"In a normal season, one team would be adrift, but it is such a different league this year. It is so tight at the top, so tight at the bottom, so you expected it to go to the last game.
"It's being built up, and it is a massive game. For us, we don't go into a game worrying about what everyone else thinks. We prepare for a game the way we think it is going to pan out, and then do our job."
Watch Sunderland take on Cardiff live on Sky Sports 1 at midday on Sunday.