Premier League: Ole Gunnar Solskjaer accepts blame for Cardiff relegation
Ole Gunnar Solskjaer admits the buck stops with him following Cardiff's relegation from the Premier League.
Last Updated: 09/05/14 11:05pm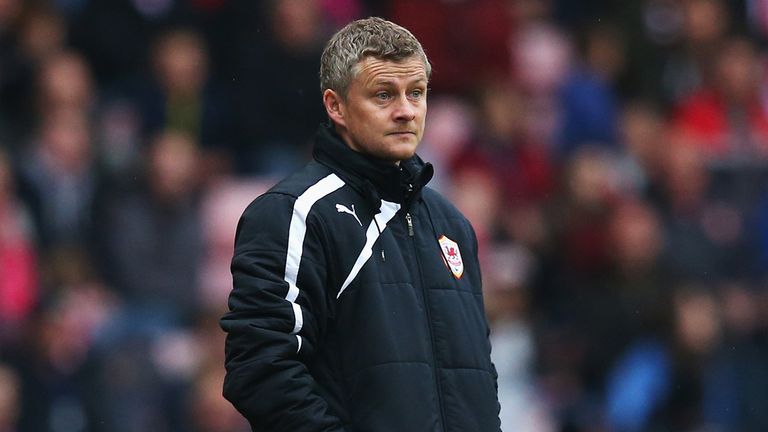 City's Championship return was confirmed by their 3-0 defeat at Newcastle last weekend and Solskjaer, who took over from Malky Mackay in January, is already preparing for life in the lower division.
"I am the manager. I will take the blame," Solskjaer said.
"I didn't make the impact on the results I hoped for. I came in hoping to make a difference and we could move up the table, but it didn't happen.
"We haven't performed very well to stay up, and that's the reality. We have not been good enough. We have got to give the fans a good last game, and then we will look towards next season.
"I have got no other signals than planning for next season. The key is to start the season well.
"You have to learn from your mistakes as a player and coach. I am a better manager now than when I came here.
"We came into the unknown this season, and the majority of the players didn't know much about the Premier League. The experience of playing in the Premier League will give everyone a taste."
Changes
Keeping players of the calibre of Steven Caulker, midfielder Gary Medel and goalkeeper David Marshall may be Solskjaer's priority, but he could give no guarantees on their future.
"There will be changes," Solskjaer said. "I will do my best to keep hold of the most important players. That job has already started.
"The ones who will be here will have to have the character, as in the Championship you cannot turn up and just go through the motions.
"You have to come back with a hunger to do well, but the majority of the squad here has that experience of the Championship.
"Everyone wants to be back there next year, but it is not going to be easy. The Championship is a very tough league, and you have to be right, mentally.
"The longer you go before you manage to bounce back, the more difficult it proves to be.
"The whole club is disappointed, but there is only one thing to do and that is come back stronger."
Solskjaer will also try to learn from the example Crystal Palace boss Tony Pulis has set this season, guiding the supposed favourites for relegation to safety with ease.
"Tony Pulis has done fantastic this season, and he was the saviour of the club," Solskjaer added.
"The way they (Palace) were going... and he has turned it around. It is an example from me to learn from.
"I spoke to him after our game (last month) and I had a great half-an-hour with him in my room. I got some advice from him."