Cardiff City owner Vincent Tan blames Malky Mackay for relegation from Premier League
Vincent Tan has laid into former manager Malky Mackay, who he still believes wasted money 'on the wrong people.'
Last Updated: 12/05/14 12:50pm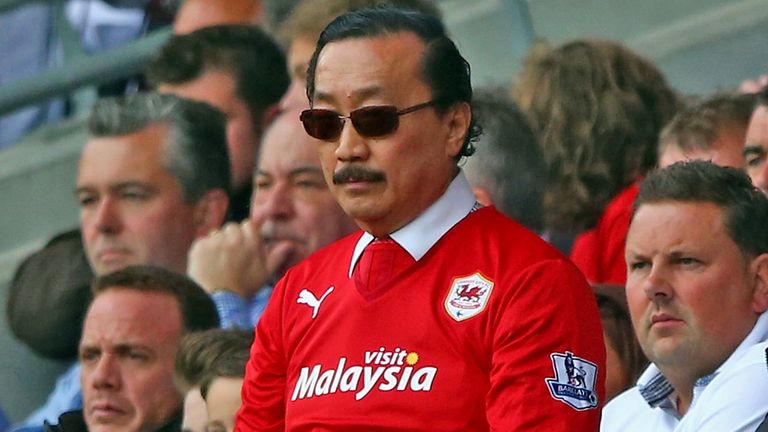 The Bluebirds propped up the Premier League table in 20th place, finishing seven points from safety after losing 2-1 to Chelsea on the final day of the season.
They were just outside the relegation places when Mackay was sacked in late December, with Ole Gunnar Solskjaer appointed in his place just after the turn of the year.
But it is Mackay who Tan holds responsible for City's slump at the top level after winning the Championship last season.
Tan said in an interview with Wales Online: "Why wouldn't you blame him for relegation? He took this club to the Championship.
"If I had not invested, he couldn't have won promotion. Why didn't he earn promotion with Watford?
"He was their manager for two years, finishing 14th and then maybe 16th.
"When Dave Jones was here, he took us to the play-offs. Malky Mackay came here as a non-performer at Watford and I gave him £15m to spend.
"I say the fans must be asked to use their heads and brains to think, not make decisions from the heart.
"Sometimes, when you make decisions from the heart, you don't think straight."
As for Mackay's purchases, Tan added: "I gave him a big budget and he spent it on the wrong people.
"We were supposed to have a main striker and we signed a 20-year-old (Andreas Cornelius), paying him £45,000 a week.
"We paid more than £10m. The reported £7.5m is not the right number. It was over £10m. And, guess what? He hardly started.
"Why pay so much for a main striker, pay £45,000 a week, more than Craig Bellamy, and then don't start him?
"Stupid decisions. This is a manager who knows how to run a business? People ask why I am angry. Wouldn't you be if you hired somebody and this was the kind of performance?"