Transfer news: Craig Bellamy given time to reflect on Cardiff City future
Cardiff City will not be rushing Craig Bellamy into a decision on his future, with the striker given 'time to reflect'.
Last Updated: 15/05/14 12:23pm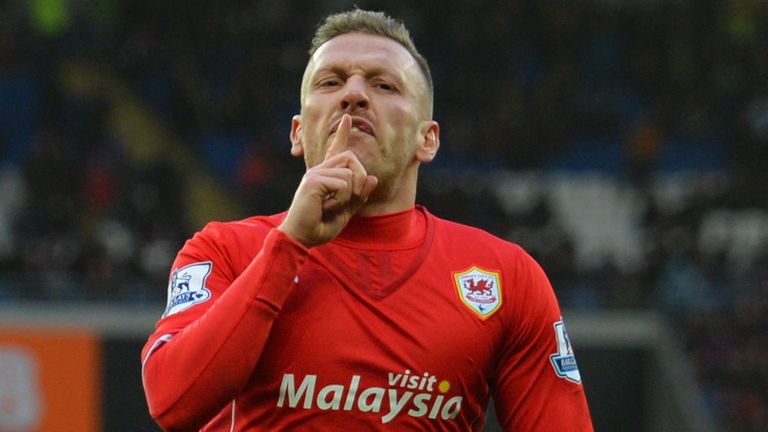 The 34-year-old forward is among those set to be out of contract in South Wales this summer.
With Cardiff having suffered relegation out of the Premier League, he must now decide whether to stay on in the Championship or follow a different path.
Manager Ole Gunnar Solskjaer claims no decision has been taken as yet, and he is not expecting one any time soon.
Solskjaer told Wales Online: "He is considering his future at the end of a hard and tough season.
"Craig needs time to reflect."
Bellamy is not the only player due to drop into the free agent pool, with Don Cowie another who must decide whether to accept the offer of fresh terms or move on.
Solskjaer added on the Scottish midfielder: "Don's contract is coming to an end, but we have offered him a new deal.
"He has a few offers to think about.
"Don is a terrific professional who has given us everything he has every day in training and matches.
"I haven't been able to give him enough football and understand the frustration that can cause and which may cause a player to think about other places."
Solskjaer hopes a mass exodus of top talent from the Cardiff ranks can be avoided, with it his intention to retain a number of key men - particularly those who are capable of getting goals.
He said: "I will try to keep hold of the most important players, of course, we must have a strike force to score us goals.
"If you have players who can score maybe 20 to 25 goals that's a good start.
"If two players can total 35-40 goals between them for us that will be vital.
"Nicky Maynard, for instance, has a year left on his contract.
"He has not played as much as we would have liked, but he will come back for next season."
Cardiff will also be expected to add over the summer, but Solskjaer claims no budget talks have been held as yet.
"That depends on who we manage to keep, who we have to sell and how much we get for them," he said.
"That's a balancing act.
"It's not as though you have X amount, now go and spend it.
"We will have to see what happens and we are also looking at different options including loan deals from top clubs and maybe free transfers if the right players become available."