Craig Mackail-Smith, Kevin Davies and Guy Branston on the relegation battle
Our FL72 bloggers tell us their stories of relegation scraps as we draw nearer to the end of the season.
Last Updated: 10/04/14 11:17am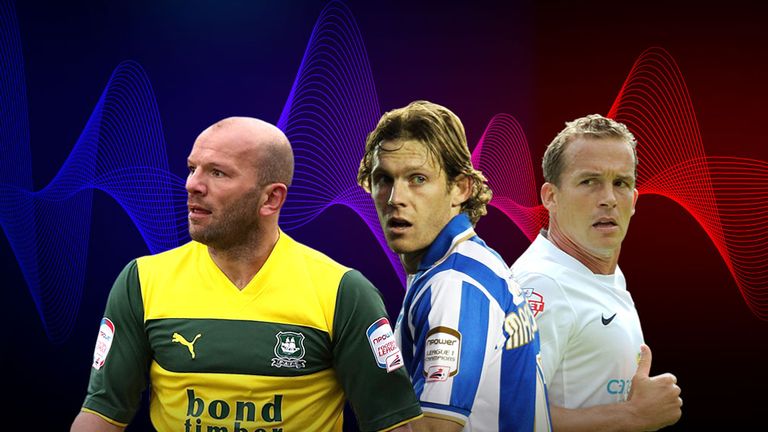 As well as a weekly blog from Leicester striker Kevin Phillips, we have been speaking to some other seasoned campaigners in the Football League.
Brighton striker Craig Mackail-Smith, Preston frontman Kevin Davies and former Plymouth defender Guy Branston - who will all appear on Sky Sports News Radio's new show FL72 Weekly - have been giving us their insight on all manner of footballing issues.
It's that time of the year again!
At the top of the Football League clubs are battling for promotion and playoff positions, while down at the foot of the tables teams are frantically playing for precious points to avoid the drop.
But what's it like knowing you have five games to save your season? How does a manager get the best from his players in that situation? And how does it feel to be relegated?
Their clubs are all guaranteed safety this season but our trio have had their fair share of basement battles in the past...
CRAIG MACKAIL-SMITH
It's really exciting to get back playing and have an involvement in the games and hopefully I'll play my part in our play-off push, especially after that result against the freshly-promoted Leicester on Tuesday!
When it comes to the relegation battle there may be a few surprises down the bottom but the Championship is a very difficult league and it doesn't matter how big a club you are, or how big your squad is; if you don't perform well you can find yourself getting relegated. We've seen it in the past with the likes of Southampton, Wolves and Leeds.
When I was at Peterborough we were relegated from the Championship but it wasn't so much a fight, more of a foregone conclusion. We were gone quite a way before the season finished.
No one wants to be relegated and it's funny how when you're down at the bottom everything seems to go against you. It's all about luck.
You have to work your way through, take those chances and try and keep clean sheets - like Barnsley did against us last weekend, that's a vital point for them.
The relegation experience is not nice and afterwards there's no partying. We all went our separate ways and tried to forget about what had happened. It's nice to take some time off from football before getting ready for the promotion push the following season.
KEVIN DAVIES
I was relegated with Blackburn in my first season with the club, which was disappointing because they'd only won the Premier League a few years before. No one wants that on their CV and you feel like you've let everyone down.
With Bolton we had a lot of success in the first five or six years but when Big Sam left we just seemed to be up against it. It's not nice picking up the paper and seeing your struggle laid on the pages.
You're so desperate to get a win. You're doing the calculations and identifying the fixtures. We did that under Gary Megson, we really put focus on games we could pick up points from.
But, as the games run out it gets more and more intense but you have to stay together as a group. After a couple of close calls we eventually got relegated but it was that team spirit and togetherness that had kept us in the league before.
You have to believe you're the better team, that you can get out of it and mustn't rely on other teams' results. Just take care of your own business.
Bolton got relegated on the last day of the 2011/12 season. We went to Stoke knowing that we needed to win and rely on Man City beating QPR. I'd scored and was then taken off and the news was relaying through about the other game. We were at 2-2, it was hectic and we knew we just needed one goal.
When the final whistle went we didn't get the result we'd wanted but it was more disappointing that QPR had lost after winning for so long before that 'Aguuerooooo... goal' - we were so close.
GUY BRANSTON
I've been in a few relegation battles but I'm lucky enough never to have been relegated and I've worked really hard to keep that record intact.
It's exciting times when you're in a relegation battle but celebrating like you've won the league when you stay up is not something I believe in as a player.
In the scrap it's always the big-time players that come through because their mental strength is a lot better than those who haven't been down there before. These guys just adapt to their surroundings and to the pressure during the big games and it's something I know I can cope with as well. If there are enough strong players that turn up on the game you've got a hell of chance of winning the football match.
A great example of a manager that can turn things around is Martin Allen. He goes in and makes a big scene about everything changing and him being the character he is, is sometimes enough to bring the lads out of the depressive playing state they're in and get through that battle.
Just the apprehension of having a new manager is often enough to get some lads over the line. They've been worrying all season about the scrap and then a new bubbly manager comes in with some spirit about him, which Martin Allen has in abundance, and things change - you start to see why he's turned things around in the past.
In League Two, it's looks as if one of my former clubs, Torquay, will be heading out of the Football League. To me, it seems like they've lacked any kind of fight for the shirt or any kind of fight to stay in the division. They haven't gone about things the way they have in the past. The team management is different to the way they did in the past and within the dressing room also. The lads haven't been a group.
Don't forget download FL72 Weekly every THURSDAY morning from skysports.com