Danny Higginbotham
Football Expert & Columnist
Danny Higginbotham on Sam Allardyce's Crystal Palace impact
Last Updated: 21/04/17 3:33pm
Sky Sports tactics expert Danny Higginbotham examines how Sam Allardyce has turned Crystal Palace around ahead of their Nissan Super Sunday clash with Liverpool.
Former England manager Allardyce has steered Palace to five wins from their last seven Premier League games - including memorable victories over Chelsea and Arsenal.
The impressive run of form has taken them seven points clear of the relegation zone, lifting the mood around Selhurst Park after they slid down the table under Alan Pardew. It has been a dramatic turnaround.
"If you look at the end of last season, Crystal Palace were defensively very strong, but there were question marks over whether they were scoring enough goals," Higginbotham told Sky Sports.
"Alan Pardew decided to change things at the start of this season. They became very good going forward, but defensively they had a lot of problems, and when you're down at the bottom of the league, more often than not it's your defence that will keep you up.
"The problem that Crystal Palace were having was that the full-backs were going forward trying to give them width, and there was no actual defensive midfielder sitting back.
"What would happen is the two centre-backs were left isolated. There were so many times when they were caught on the counter-attack because of the spaces from the team playing so high up.
"There was so much space in behind them, so quite often you would see Crystal Palace being in the ascendancy, then the opposition breaking away and scoring. It was exciting to watch for the neutral, but they were dropping further and further down the league."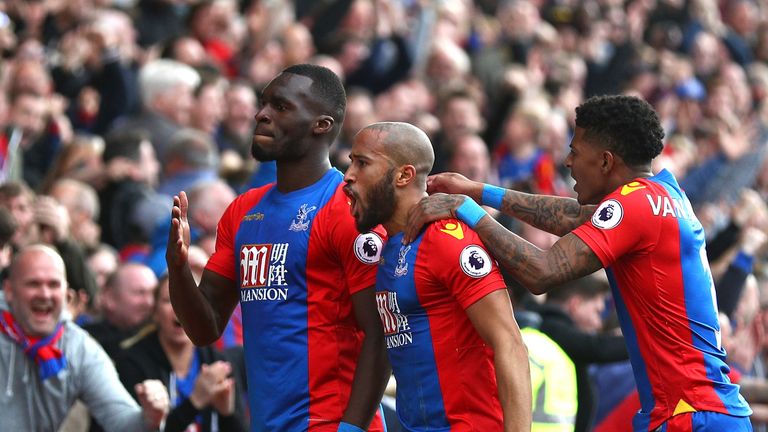 According to Higginbotham, the key factors in their change of fortunes have been Palace's January signings and a number of tactical adjustments.
"There have been two key players, in my opinion," he said. "Luka Milivojevic, who has come in, and Mamadou Sakho, who is going to be a big miss against Liverpool as he can't play.
"They've still got (Christian) Benteke, (Andros) Townsend, (Wilfried) Zaha and (Jason) Puncheon, but the team is starting a little bit deeper. They are defending with a five and attacking with a five as well.
"The two full-backs are staying nice and compact with the rest of the back four, so Zaha and Townsend are able to get one on one in those wide areas constantly.
"Milivojevic has been absolutely fantastic at closing space. They don't get counter-attacked, there's no spaces down the side for the wingers to get into, and the two centre-backs don't have to worry about the ball going in behind. That's worked really well for them.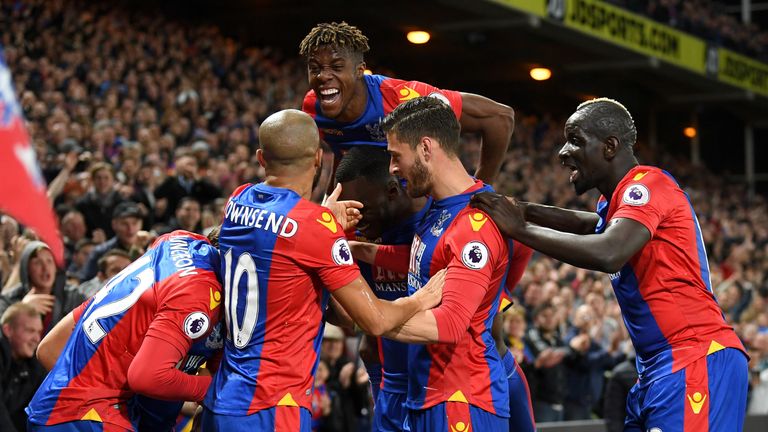 "Benteke is driving the opposition back four back, and all of a sudden there are huge spaces for the likes of Zaha, Townsend and Puncheon. They're picking up the ball and they're able to drive at the defence.
"All the while, they are defending as a five, because the full-backs aren't getting involved. If anything break down, they've still got a solid back five. And because of the pace of Zaha, Townsend and Puncheon, Benteke isn't getting isolated anymore.
"Their last five wins have been with their lowest possession of the season. They have been happy to sit back and allow the opposition on the ball, the break quickly on them. Their highest possession of the season, believe it or not, was when they got beaten 4-0 by Sunderland at home. Sam Allardyce has reversed the effect to get them out of danger."
Watch Higginbotham's full analysis in the video above