England recruit Wilfried Zaha only looks up to Lionel Messi and Cristiano Ronaldo
England's newest recruit Wilfried Zaha believes he can take the step up to senior international football in his stride
Last Updated: 13/11/12 11:13am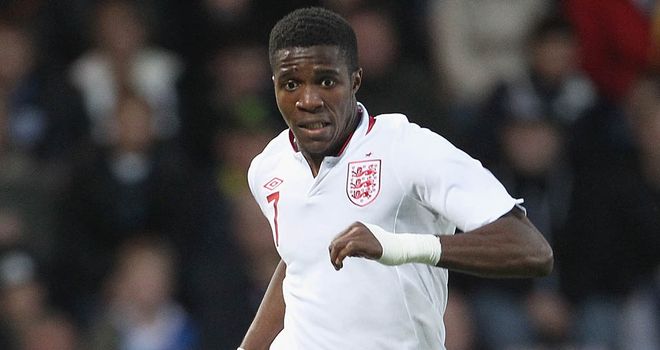 The 20-year-old winger is considered one of the most exciting talents in English football and his fine form for the Eagles was rewarded with a call-up to the senior squad for Wednesday's friendly against Sweden.
Zaha insists he is not overawed by rubbing shoulders with the game's big names and the confident youngster believes his skills can match up with the very best.
"I want to come up against defenders who will properly test me," he told The Guardian. "I'd never look at someone and think he's better than me, unless it's Cristiano Ronaldo or Lionel Messi. When I get on the pitch it's my time."
Zaha played a starring role in Palace's Carling Cup win at Manchester United last season and relished the chance to compete on the big stage at Old Trafford.
He said: "I was so nervous for that game, but as we stepped out, I thought I'm obviously here for a reason, so just go out and do what you normally do.
"I've not really come up against a defender yet where I've thought: "What can I really do to go past him?
"We came up against people who have played in the Premier League every week, like Danny Murphy the other day. I used to watch him all the time and he's played for years.
"I know I'm 10 times faster than this guy so I didn't have to do any trickery. I'd just push it and go past him.
"I'm not scared coming up against people like that because I've analysed what they do."
Zaha admits he is still undecided about his international future, despite his England call-up, and Didier Drogba has urged him to play for Ivory Coast - the country of his birth.
"I was born in the Ivory Coast but all I know is England," he said. "It's 50-50 at the moment.
"Didier Drogba called me and I was shocked, to be honest. He's a humble guy.
I've been with England Under-21s and now I will have to make a decision."
A hosts of clubs, including Manchester City, Arsenal and Liverpool have been linked with a January move for Zaha, but he is enjoying regular first-team football with the Eagles.
He is fully aware of the perils of stepping up to the Premier League too soon and does not want to follow in the footsteps of John Bostock, who failed to make an impact at Tottenham after making the move from Palace as a teenager.
Zaha said: "The Premier League is where I want to go, but I'm not saying I want to leave Palace right now.
"John Bostock left Palace when he was 16 and playing in the first team, but he left for the first club that came in for him - that's kind of stupid.
"Me I've played over 100 games in the Championship. (Alex) Oxlade Chamberlain went from League One to Arsenal and didn't play anywhere near that."