Peter Beagrie says professional Phillips deserves late-career limelight
Peter Beagrie says it was "written" for Kevin Phillips to score the goal that sent Crystal Palace up.
Last Updated: 27/05/13 6:35pm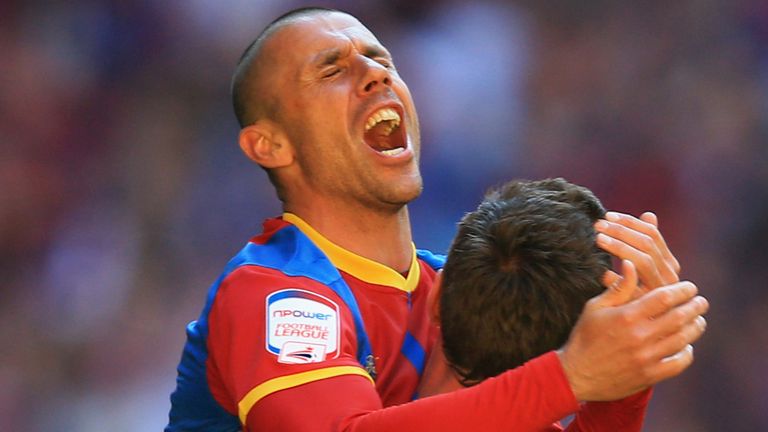 The 39-year-old had been on the losing side in three previous play-off finals, but after coming off the bench at Wembley he called upon all of his experience as he smashed home the extra-time penalty against Watford that could be worth an estimated £120million to his club.
After the game he refused to commit to signing a new playing contract and if this was to be his last game as a professional footballer, Sky Sports pundit Beagire feels it was an appropriate way to bow out.
"It had that air of inevitability while it remained 0-0," he said.
"What a professional. He deserves every accolade he will get and every headline. Some people like Kev, for the passion and commitment that he's given to the game, deserve moments like this.
"He's had a lot of them, but it was written because winning a play-off final was the missing piece of the jigsaw.
"Ian Holloway loves him to bits because he is ultimately the professional and when you look in the dressing room and you've got a Kevin Phillips to come on at some stage in the game, whether you're chasing it or not, is a magnificent plus."
Changer
One man who is definitely leaving Crystal Palace this summer is Wilfried Zaha, who marked his final game before heading to Manchester United by winning the decisive penalty in the 105th minute.
Former Eagles player and manager Iain Dowie praised the impact of the 20-year-old and the tactical victory of his manager, Ian Holloway.
And he says that Palace, who came out of administration less than three years ago, are now ready to prove they have the infrastructure and fanbase to become a consistent force in the Premier League.
"You talk about game-changers and Wilfried Zaha, for one so young, has the bravery to get on the ball in tough situations, said Dowie on Sky Sports.
"And tactically Ian Holloway has come of age today. Tactically he was absolutely first class with his team set-up.
"You are almost lost for words; it is a momentous occasion. The Palace fans were simply sensational, they really were and they deserve it. Palace deserve it.
"What a reward. It's an area where the catchment area can be huge and they want to work on the infrastructure so that Palace can be a Premier League club for years to come.
"They've certainly got the fanbase. You've seen that today because the fans were fantastic and it was a fantastic tactical display from the sidelines.
"It's life-changing."