Crystal Palace boss Ian Holloway expects Wilfried Zaha to stay at Manchester United
Crystal Palace boss Ian Holloway has moved to play down talk that Wilfried Zaha could rejoin the club on loan next term.
Last Updated: 28/05/13 12:47pm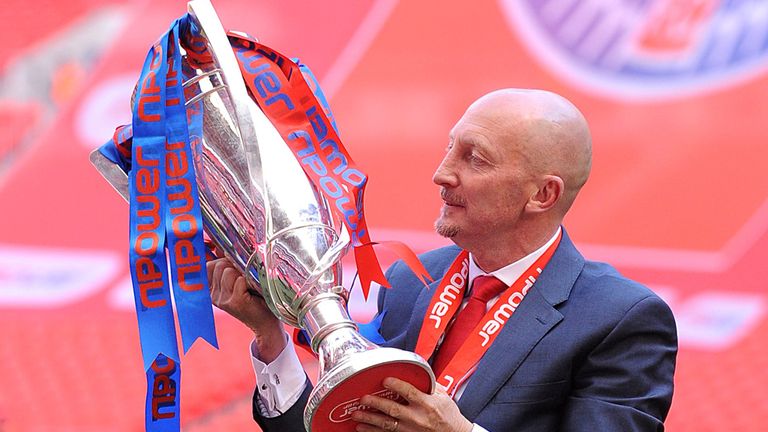 Zaha helped Palace win promotion back to the top-flight after an eight-year absence following Monday's 1-0 win over Watford.
Palace co-chairman Martin Long claimed Palace might try and persuade United to loan Zaha back to Selhurst Park next season after agreeing a similar deal in January for the rest of the Championship season.
However, Holloway has cooled the rumours and says Zaha's future is in the hands of Manchester United.
"As far as I am concerned David Moyes has a great player in his squad for next year - the rest is just speculation," Holloway told Sky Sports News.
"I am just delighted for Wilf to end his Palace career the way he did yesterday and how everybody is talking about him.
"When are we going to admit how good someone is - he is only 20 - and he was the difference yesterday. He frightened them to death."
Holloway is also hopeful of persuading Monday's match-winner Kevin Phillips to stay on at Palace, insisting he is too good to retire yet.
Phillips hinted he may hang up his boots this summer, but Holloway is keen for him to play on in the Premier League next season.
"I think he would be silly if he retires because he still has got a lot to offer to the game, it's just about him and how he feels," added Holloway.
"I have never seen anybody so fit, never seen anyone look after himself like Kev does and how he plays, he gets on the end of things. His brain is still there.
"As long as he still wants to be in a hotel room without his family, but it's the travelling that does it, that's the difficult thing. If we were in Birmingham where his family home is it would be easy, a no-brainer.
"Let him enjoy what he did yesterday, another chapter in his wonderful career.
"We will have a little chat and see what happens, but I am sure I have got as good a chance to get him not to put his feet up and keep playing."