Money matters
The prize money for winning the Championship play-off final is unrivalled worldwide. Sky Sports examines what it means for this year's winners, Crystal Palace
By Ryan Parrish
Last Updated: 28/05/13 2:14pm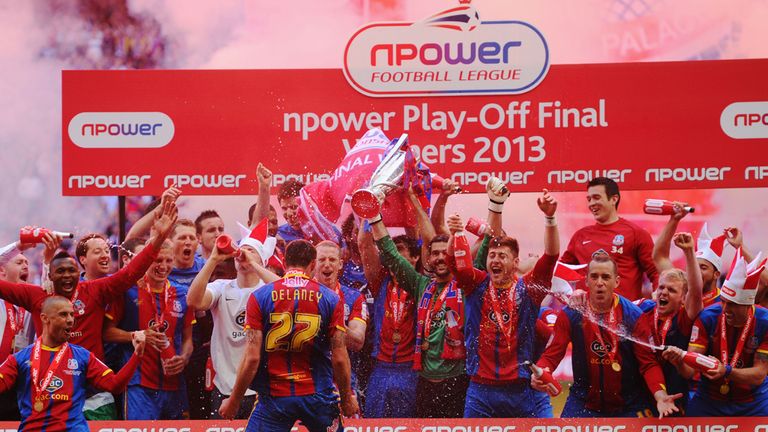 Winning the Championship play-off final offers a financial reward greater than any other sporting event in the world. Crystal Palace's owners will therefore be rubbing their hands at the prospect of the estimated £120million windfall Monday's victory over Watford will bring.
Money talks
Based on the figure of £120million as calculated by Deloitte, it is projected Palace will receive a predicted £60million increase in revenue next season. That is £55million from television broadcasting and the extra £5million made up from increased ticket sales, sponsorship deals and other related products. These figures are based on a worst-case scenario where Palace would finish bottom of the Premier League, while the additional £60million consists of parachute payments spread over four years if they were to suffer relegation.
According to Deloitte, the value of winning the play-offs has increased three-fold over the last 10 years, although out of the nine different teams to have enjoyed success in that period of time, only the most recent two, West Ham United and Swansea City, remain in the top-flight. This brings into question the correlation between Premier League survival and the amount of money needed to be spent in order to achieve it, as four out of the five previous play-off winners have gone back down within at least two seasons.
Previous winners
West Ham's 10th place finish this year was the highest for any play-off winners since themselves in 2005, when they reached ninth. But their summer expenditure was substantially higher than most victors in recent years. The Hammers splashed out £10.75million on record signing Matt Jarvis and £5million on Modibo Maiga from Sochaux, while a £2million loan fee was paid to Liverpool to bring in Andy Carroll for the season. Add in the £2million signing of James Collins from Aston Villa and Sam Allardyce was not too far off spending £20million on strengthening his squad. In the previous year, Swansea spent around half of that, with the £3.5million signing of Danny Graham being the most expensive of their summer 2011 recruits, although the rapid progression of the likes of Scott Sinclair and Joe Allen meant that Brendan Rodgers' side were already fairly suited to the step up, as outlined by an 11th place finish.
The play-off winners prior to Swansea were Ian Holloway's Blackpool, who spent approximately a quarter of what the Welsh club did the year later and they were to suffer differing fortunes as a result, dropping straight back into the Championship after a 19th place finish. Holloway's most expensive summer signing that year came in the shape of the £1.5million paid for DJ Campbell, although the purchase of Matt Phillips for £325,000 looked to be an astute piece of business. Phillips' emergence, coupled with the impressive midfield duo of Charlie Adam and David Vaughan, gave the Tangerines hope but they ultimately lacked enough quality to consolidate their Premier League status. Upon their relegation, some of the stand-out players from their season in the top flight were inevitably sold and, although they were beaten finalists at Wembley last year, Blackpool fell to a 15th place finish this season, underlining just how difficult it can be for clubs chasing a quick return.
Holloway's hopes
Palace may take Swansea's success as a blueprint for how to make the step up to the Premier League and re-establish themselves as a top-flight club, but there is no question they will need to open the chequebook if they are to survive. Similar to the Swans when they went up, Palace are already blessed with a handful of ambitious players who would have been likely to attract Premier League attention even without their promotion. The likes of Jonathan Williams, Mile Jedinak, Yannick Bolasie and Glenn Murray have all shown this season they could be ready to prove themselves at the top. While Wembley goal-hero Kevin Phillips could also be set to stay, meaning the veteran striker would offer bags of top-flight experience in front of goal. If Palace are able to stay up, they could have the makings for building an exciting team. But Holloway is still likely to be on the lookout for another striker or two, as well as a replacement for Wilfried Zaha, and they will also need to strengthen at the back if they are to enjoy a cheerful Premier League return, having shipped 62 goals this season.
Palace were the Championship's second highest goalscorers this term and their attacking mentality combined with their apparent desire to play attractive football could put them in good stead for handling the step up, just like it did for Swansea, although the departure of Zaha could see them struggle to emulate some of this year's success going forward. Holloway will also be striving to find the right balance between attack and defence having watched his side concede the second highest amount of goals in the top half of the Championship. But he does not believe that money will necessarily be the key to success next year, saying: "It's what's inside their hearts and how much they work for you. To me they're Palace heroes."
If Holloway can add to the pool of talent he already has at Selhurst Park, Palace could cause a bit of a stir next season and the prize money from Sunday's win, coupled with the fee raised from the £15million sale of Zaha to Manchester United, will mean he has the necessary resources to do so. The financial boost will also help the Eagles off the pitch, with developments to the stadium already being planned, as Holloway discussed after yesterday's game when he said: "They have got plans to try and change the ground. It is a getting a bit old in places."
It would be hard to imagine Palace forking out the type of prices that West Ham did last summer but Holloway will be hoping he has slightly more spending money at his disposal than he did in his Blackpool days, as he looks to give the Premier League another go.