Crystal Palace boss Ian Holloway sorry for speaking out over Darren Bent deal
Crystal Palace boss Ian Holloway has apologised for his comments relating to Darren Bent's move to Fulham.
Last Updated: 21/10/13 8:34pm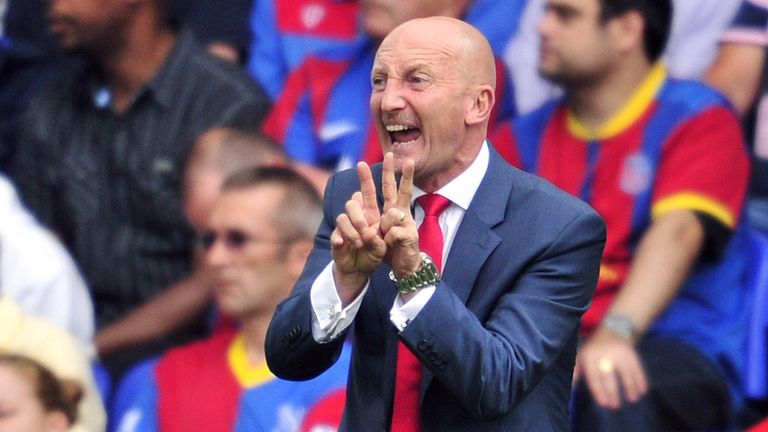 The striker looked on course to join Palace on loan from Aston Villa, but the 29-year-old instead decided to travel to Fulham's Motspur Park training ground for talks with Cottagers boss Martin Jol.
Holloway then announced he had lost out on the former England forward, which angered Jol as Fulham had not confirmed the deal.
But Jol did get his man and Bent is expected to start up front when Fulham travel to Selhurst Park for Sky's Monday Night Football showdown.
"It's in the past now," Holloway said. "Fulham did very well to get him, so well done to Martin.
"We had a couple of discussions about it and I thought he was turning up at our training ground, but you've never got them in your keep net until they're there.
"At the time I got a camera shoved in my face 30 seconds after finding out he had signed for Fulham. I do apologise to Martin and didn't realise they hadn't announced it at the time."
Bent insisted he was never likely to join newly-promoted Palace despite holding talks with Holloway.
"I spoke to Ian but I always knew Fulham was the place for me," he told the London Evening Standard.
"No disrespect to Crystal Palace or Ian Holloway, they are a fantastic club and he is a fantastic manager but I could only ever see myself coming to Fulham."
Holloway managed to bring in 15 new faces before the summer transfer window closed, and he admitted he may try and lure Manchester United midfielder Wilfried Zaha back to the club on loan in January.
"I love the kid, I think he is a fantastic boy and it was right for him to move," he said.
"How his career will go is entirely up to him. Man United and David Moyes have more than enough good players and they will choose to teach him what they want and play him whenever they see fit.
"The boy, from my point of view, is sorely missed at this football club because of the belief he used to give us because he could do things that other people couldn't.
"The emergence of Adnan Januzaj hasn't really helped Wilf but with the competition he will grow. Good luck to him and we will revisit that [a loan move for Zaha] if and when we might see fit, but he is not our player."
Watch Crystal Palace take on Fulham on Ford Monday Night Football, live coverage starting at 7pm on Sky Sports 1