Ian Holloway urges Crystal Palace to find their feet in top flight
Crystal Palace boss Ian Holloway is refusing to panic about his team's lowly position in the Premier League.
Last Updated: 21/10/13 8:35pm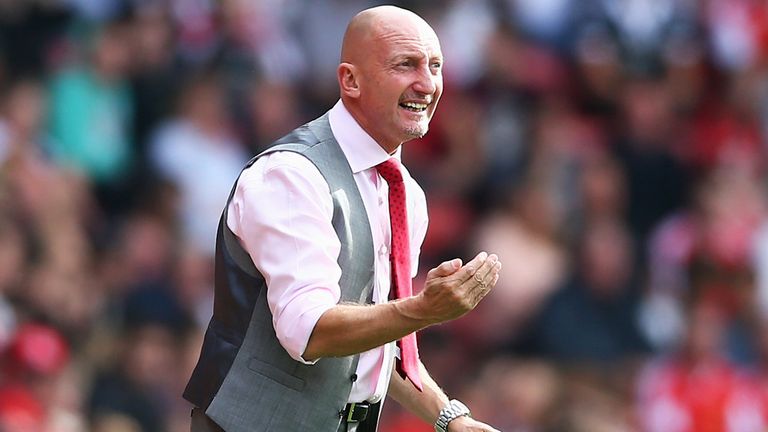 Palace have picked up just one Premier League win and will be seven points adrift of safety if they lose against Fulham at Selhurst Park, live on Monday Night Football.
Holloway brought in a host of new faces ahead of the club's return to the top tier and accepts that Palace have struggled to find their feet in the Premier League.
But the Eagles boss remains confident that results will improve once the players start to gel together.
"At the end of the day what we have been doing lately hasn't been good enough and we have got to do better," he said.
"That doesn't scare me, that is a fact and we have got to try and do that and do it very, very quickly.
"If this was the last game of the season then we are in the mire aren't we?
"But it isn't, we have got 31 left and have got to try and get some points and stay with the pack and try and grind some things out.
"At the moment we are in a bad run and things haven't gone our way but we have got to try and keep going.
"To be honest I think the group will respond to that because they are so newly-formed, it is no excuse but it is the fact, and we have to learn through adversity to get stronger."
Fulham have also endured a disappointing start to the campaign and are sitting fourth from bottom.
But Holloway insists the fixture is not a relegation battle as he expects Fulham to pull away from danger.
"That would be a bit of a disgrace to Fulham," he said.
"For them they have had a mixed bag of results recently and then people were talking with a new owner and speculation grows.
"But Martin (Jol) is a very shrewd cookie and they have got all sorts of players there. Scott Parker is fit again and when you look at it they are used to this division.
"I'm sure they will have much bigger aspirations than ourselves and the truth is we have got to try and finish first of the bottom four."
Crystal Palace v Fulham is live on Monday Night Football, Sky Sports 1HD at 7pm