Premier League: Julian Speroni says Crystal Palace players care about club
Julian Speroni says the Crystal Palace squad are as disappointed as anybody with the club's current plight.
Last Updated: 26/10/13 12:26pm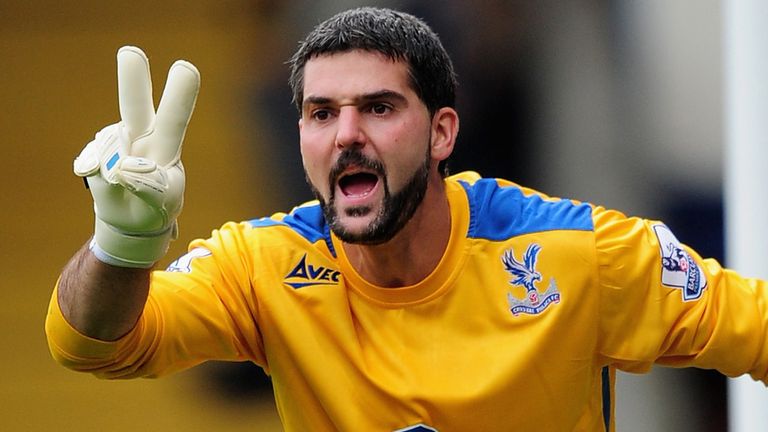 The Eagles have struggled to adjust after re-joining the Premier League elite, with one win in eight games leaving them second from bottom in the table and facing up to a long, hard slog.
Their struggles have also led to the departure of manager Ian Holloway, with a man renowned for his energetic approach to coaching claiming he is too 'tired' to embark on another top flight basement battle.
Long-serving goalkeeper Speroni concedes that the situation at Selhurst Park is far from ideal - with it taking longer than expected for the dust to settle on a summer of change which brought several new arrivals - but the Argentine shot-stopper insists the troubles are not down to a lack of spirit.
He told The Independent: "No one likes to lose. No player says, 'I don't care'. Players here care, and they care a lot.
"Obviously when you are at the wrong end of the table, when things don't go your way, you will always feel bad about it. If you have a bad season and end up going down, everyone will remember that. We are doing all we can to avoid it. We want to stay here and do well.
"It is not the case that a footballer thinks just about his wages. We want success. Everybody has family and friends. We all want to do well. Nobody likes to lose.
"The players are not happy just picking up their money at the end of the month and that's it, 'I don't care if we win or lose'. No. The players want to win every single time."
On reports suggesting that an influx of fresh faces has destabilised the squad, something Holloway alluded to on his way out of the club, Speroni added: "It is natural when you have so many new players. You need time to get to know each other and those players need to settle. Not just football-wise, but they have to arrange a place to live and they have families.
"People sometimes see what happens on the pitch but there is a lot around those players as well. We have Jose Campana. He comes from Spain and he doesn't speak English. Everything is new for him. He came to this country and he didn't know where to start. I have tried to help him as a Spanish speaker.
"It's every single thing, like finding a house, finding a car. Everything around football. We are human beings and everything affects us. That is normal. It's natural when you have so many new players, it is going to take some time to adjust and settle in."