Premier League: Keith Millen unsure if he will be staying at Crystal Palace
Keith Millen has been given no guarantees that he will be kept on at Crystal Palace under a new management team.
Last Updated: 28/10/13 8:02am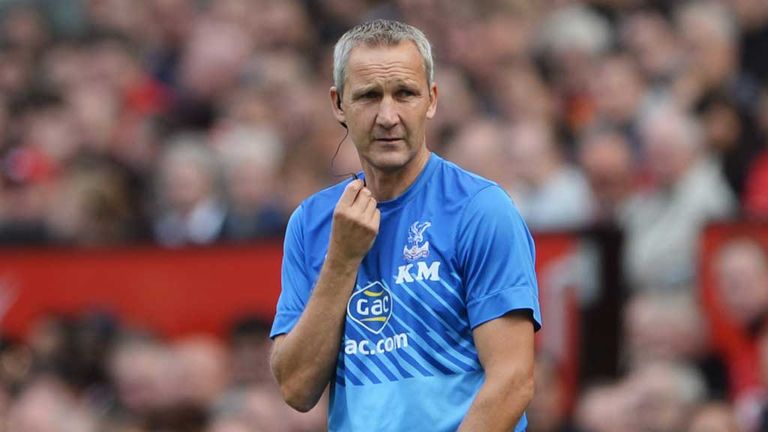 Millen has been placed in caretaker charge of the Eagles in the wake of Ian Holloway's resignation.
The search for his successor is set to be stepped up on the back of a weekend which saw Palace beaten 2-0 by capital rivals Arsenal at Selhurst Park and slump to the foot of the Premier League table.
After seeing the squad respond to Holloway's departure with a dogged display against the Gunners, Millen hopes he will be given a chance to help turn things around alongside the new boss.
He is, however, aware that the new man, whoever that may be, will have his own ideas on how to run things and may decide to overhaul the club's backroom team.
Millen said of his future: "No I haven't (been given any guarantees). I have not really had that discussion with the chairman.
"I was proud to be asked to take over the team against Arsenal and enjoyed it, so I think it will be a case of the chairman decides on who he wants to bring in and the next question will be 'do I fit into that?'
"I have been here before. I am experienced now. I know how football works.
"If I am asked, I would love to stay and work at this football club.
Millen added: "The most important thing for me is you trust the people you are working with and people know me well enough in the game to know I work with people and I trust them.
"That is how I would expect it to be if I was the manager."
Despite seeing Palace suffer an eighth defeat in nine outings this term, Millen believes the club remains an attractive proposition to ambitious coaches.
He said: "The owners that run this club from the top have got this club in a good situation. The fans are definitely with you, and I think you've got a talented group of players - it is just trying to get the balance of what is your best team.
"The new manager will have to assess the group very quickly, but if he asks for my opinion I think he saw a team spirit and togetherness that would make most people want to come and work with them."