Premier League: Tony Pulis lambasts Tottenham structure which saw Andre Villas-Boas sacked
Tony Pulis has hit out at Tottenham's club structure, suggesting Franco Baldini must take responsibility.
Last Updated: 11/01/14 2:21pm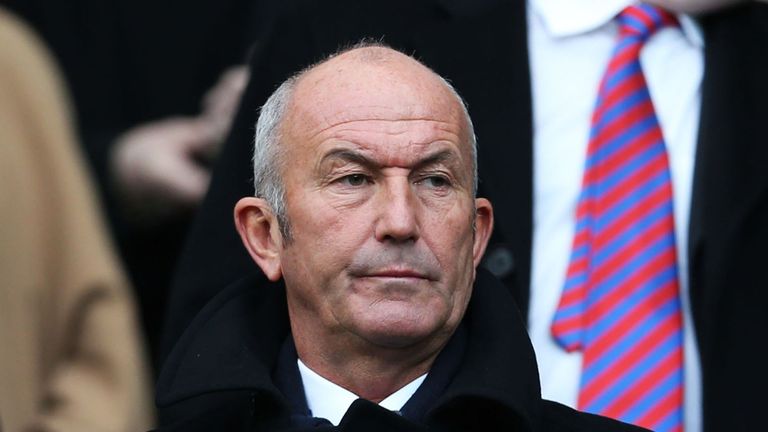 Ahead of his trip to White Hart Lane with Crystal Palace, the Eagles manager brought into question the systems in place at Tottenham after former manager Villas-Boas was sacked after a summer spending spree.
Following the sale of winger Gareth Bale to Real Madrid for a world-record fee, Spurs utilised their revenue to bring in the likes of Erik Lamela, Nacer Chadli, Vlad Chiriches and Christian Eriksen, costing a princely £110million.
Despite investing heavily through the off-season, Tottenham endured a mixed start to the season and a 5-0 loss to Liverpool at home in December signalled the end for Villas-Boas, but Pulis has raised concerns over who is actually making the decisions at White Hart Lane.
"Was it Villas-Boas who spent all that money," he questioned. "Was the manager picking the players?
"If I had £100million to spend I'd want to be spending it on players I wanted and how we wanted to play.
"You'd have to speak to AVB to find out how many of the players he wanted and was his name on every player that came in?
"It's important people understand how the game is changing."
Responsibility
Pulis embarked upon his managerial career in 1992 with Bournemouth and the 55-year-old insists he has seen a raft of structural changes during his 21 years in football.
"When I first came into it the manager always picked his players," he added. "Now there are directors of football or others who bring in the players.
"But it doesn't go well or if players don't settle then those people can't just fade away in the background and let one person take responsibility.
"They have to stand up and be counted as well."
Despite acknowledging the changing face of the game, Pulis remains a traditionalist in the transfer department and claims he would never work under a structure which does not allow the manager control over his squad.
Continental
"I've always picked my own players," he stated. "If I couldn't then I wouldn't be at a club.
"I've worked for a director of football before and Iain here. But he doesn't sign a player without speaking to me first.
"We've obviously gone towards a more continental model, but I still say if you are a manager and you are out there and all the guns are pointed at you then you should make the decisions.
"The manager's sign is above the door, nobody else's."
Following Villas-Boas' departure from Spurs, former player and assistant manager Tim Sherwood seized the reins and Pulis is delighted to see a home-grown manager getting a shot in the upper echelons of the Premier League.
"I'm pleased a British coach has one of the top jobs and I'm sure he'll make the most of it," he added.
"Tim was a very good player, a very determined player. I'm not surprised he got the job.
"He knows the players coming through and Tottenham have exceptional young talent. Daniel Levy has made a good appointment."