FA investigate coin throwing incident involving Wayne Rooney at Crystal Palace
The Football Association has launched an investigation into a coin-throwing incident at Selhurst Park on Saturday.
Last Updated: 24/02/14 11:40pm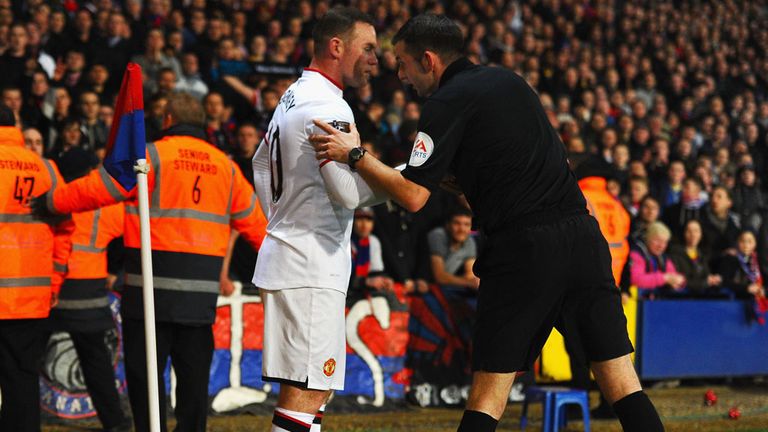 Manchester United striker Wayne Rooney was the target of home fans as he prepared to take a corner during the Premier League match.
The England international informed the referee that missiles were being thrown at him and the FA is now waiting for a report into the matter.
A spokesman for the Metropolitan Police confirmed late on Monday that a man had been arrested and was being questioned in connection with the incident.
The spokesman said: "We continue to liaise with club officials and the referee over allegations of coin throwing at the match.
"We will continue to make further enquiries over the coming days."
Palace are unlikely to be charged unless an investigation decides the club was negligent, while co-chairman Steve Browett has vowed to ban any Eagles' fans foudn guilty of throwing coins during the Sky Live game.
Speaking about a pre-match display organised by fans, he said on the Crystal Palace 'Five Year Plan' podcast: "I was really angry because you've got guys who worked through the night on Friday night, they have worked really hard on that display.
"They've spent hundreds, thousands of hours getting that display right and you turn on Match of the Day and they don't even mention it, all you see is some t**t throwing a coin at Wayne Rooney.
"One idiot has screwed it up for everybody else and it makes me so angry. I hope somebody turns him in because he's not welcome at Selhurst Park."
Police are still looking into a similar incident at Arsenal's FA Cup clash with Tottenham last month when items were thrown by Spurs fans as Theo Walcott was being carried off the pitch.