Tony Pulis backed to help Crystal Palace avert relegation by Hayden Mullins
Tony Pulis has been backed to lead Crystal Palace to safety from relegation by former club favourite Hayden Mullins.
By Dev Trehan
Last Updated: 09/03/14 9:49pm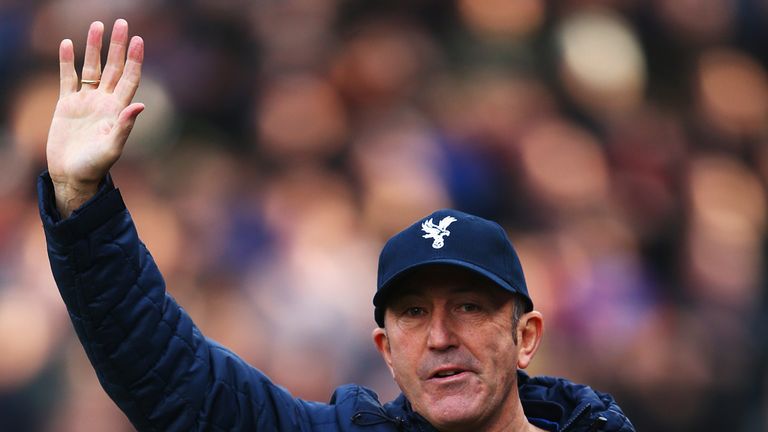 The Birmingham City midfielder, currently on-loan at Notts County, began his career at Palace, making his debut for the south London club at the age of 19.
And he believes Pulis has the experience and credentials to help Palace preserve their Premier League status.
"The club have still got a place in my heart and it was an important time for me in my football career," Mullins told skysports.com. "I always look out for their results and I'm pleased that they're doing well because they deserve it.
"Tony Pulis has been fantastic. He knows exactly what he's doing and he's a very good manager.
"He knows that if he organises his team and gets them working in the right way all pulling in the same direction they'll be able to get results which is exactly what they have done since he has been there.
"I think it was a great signing for Palace to be able to get Tony Pulis. Obviously his ties with Stoke were cut but he's gone into Palace and he's been absolutely brilliant and made them really hard to beat.
"They've picked up some good results, they've got a good manager and I'm sure they'll stay in the league."
Pulis took the unusual step of fining Marouane Chamakh and Jerome Thomas last week after the pair were cautioned during Palace's 1-1 draw Swansea.
Mullins admitted he has never known a manager to have taken such a stance on diving but feels it is something which is almost impossible to eradicate from the game.
"I haven't seen the dives so either they were absolutely awful or they were blatant cheating or he just doesn't want them to do it," Mullins said.
"He must be so against diving that he's made it clear to his players he doesn't want them to do it.
"He probably doesn't like it in the game, but I think as long as players think they can gain an advantage by taking a dive, they will, and I don't think that will ever go away.
"I'm sure if it was the last minute of the game and they nicked a penalty and won the game from it then he wouldn't have fined them for that."
Mullins also hailed the return to fitness of striker Glenn Murray, who returned to fitness last month after almost nine months out due to a cruciate ligament injury.
"It's a massive boost," he added. "He's a big player for them and he's a real goal threat. It's like having a new signing and I'm sure all Palace fans are delighted to have him back."