Premier League: Tony Pulis doesn't care who wins title as long as Crystal Palace survive
Tony Pulis is out to secure Crystal Palace's survival as soon as possible - no matter whose title dreams he destroys.
Last Updated: 16/04/14 7:00pm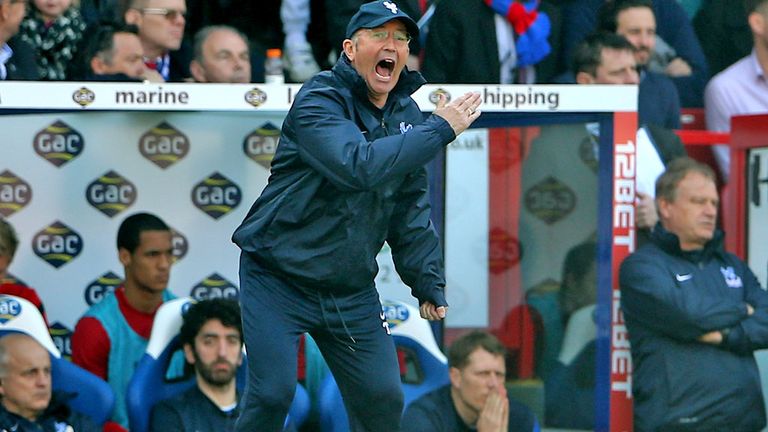 Three straight wins have left Palace seven points clear of the bottom three with five games to play, three of them against teams currently in the top four.
Wednesday's trip to Everton is followed by a visit to West Ham and then back-to-back home games against Liverpool and Manchester City, meaning Palace are likely to have a big influence on the destination of the title and the fourth Champions League place.
But Pulis' only concerns are getting Palace to safety and then planning the make-up of his squad for next season.
"It's as exciting a season in the Premier League as there has been for years," he said. "That goes for a lot of the clubs trying to get over the line to stay in the league for next season, and for those clubs trying to win the league.
"We play Man City and Liverpool at home but our focus is not worrying about whether we stop them from doing anything, our focus is making sure we cross the line.
"I'm just thinking about Everton, and how we can get up there and try to take points. I don't care as long as we stay up."
Among several players out of contract this summer is goalkeeper Julian Speroni, whose saves at key moments in recent games have contributed to Palace's climb away from trouble.
"You talk about Julian but there's five or six players whose contracts are up at the end of the season," said Pulis. "And they won't be decided until we can act on where we will be next season, and that's been the case since Christmas."
As for potential signings, he said: "From my experience if there are players available, they will take their time.
"We'll be fishing from the back-end of the table, not the front-end, so those players will take their time and work their way down the table before they get to us.
"So we've got to consolidate what position we're in to ensure we've got the right bait to catch them."