Premier League: Tony Pulis hails Crystal Palace after win over Everton
Tony Pulis hailed his Crystal Palace players after they beat Everton to reach 40 points in the Premier League.
Last Updated: 17/04/14 10:10am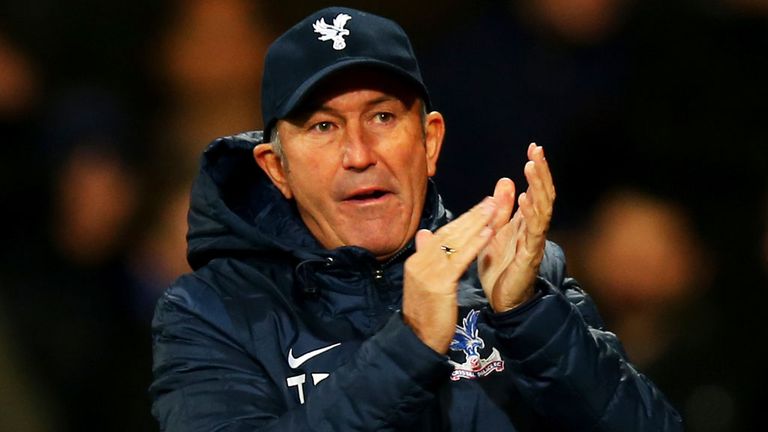 The win was the Eagles' fourth on the bounce and saw Pulis' side move up to 11th in the table, ten points above the drop zone.
Pulis believes his team are now probably safe and hailed how they had performed since he had been announced as manager back in November, with the Eagles rock-bottom of the top flight.
Asked where it ranked among his achievements in football, the former Stoke boss told Sky Sports: "It's right up there. I am told we had four points (from 12 games) when we went to Hull for the first game I was involved in, and we've got to 40 points with four games to go.
"It is really remarkable and a great achievement by the players, who have been absolutely wonderful and have bought into what we've tried to do.
"We've played some very good football tonight and scored some great goals.
"We try and work in a way that we can take the ball off midfield players in positions where the opposition is stretched, and we've got great pace. I thought some of our passing movement was fantastic today."
Inevitability
Asked if the players thought there was a sense of inevitability that the club might not get out of their relegation situation when Pulis came in, the Palace boss replied: "I don't think it was just the players, it was everyone around the club.
"There was a lot of talk about having a pot of money to prepare for the next challenge in the Championship.
"But I enjoy a challenge and to do what we have done as a group is wonderful and I will look back with great satisfaction on."
He added there would be no let-up until the end of the season.
"I think we are safe, but we have a responsibility to the Premier League to turn up for the next four games.
"I have got great respect for Sam and West Ham United and then we have got what could be big games against (Man) City and Liverpool.
"I have said to them afterwards that it is a fantastic achievement but we have a responsibility to perform in the next four games."
Yannick Bolasie tore the Everton defence apart in a man of the match display, with Pulis adding: "Bolasie has got everything. The disappointing thing is that he doesn't score enough goals and we've been working on that.
"Today he has been very unlucky not to score on quite a few occasions, but he is so quick and so strong, and he has got great technical ability."