Premier League: Marouane Chamakh enjoying his football again at Crystal Palace
Marouane Chamakh is enjoying his football again, with the fun factor returning on the back of a move to Crystal Palace.
Last Updated: 01/05/14 12:27pm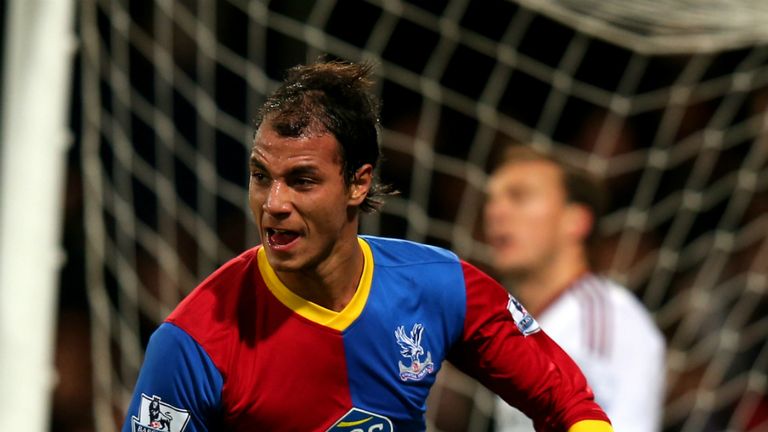 The Morocco international crossed London last summer as he completed a switch from Arsenal to Selhurst Park.
He opted to take on a new challenge after slipping down the pecking order at Emirates Stadium and enduring a tough loan spell at West Ham United in the second-half of the 2012/13 campaign.
Joining Palace was a big call, as the club prepared to step back up into the Premier League, but he has seen that decision vindicated by regular game time, six goals and the promise of a solid mid-table finish.
The 30-year-old striker told the club's official website on his debut campaign: "Everyone knows I have enjoyed being here this season.
"We had a big challenge ahead when I came here - probably bigger than any challenge I've had before - so that was good for me.
"We did well this season, there was a good atmosphere among the players and now that we are at the end of the season I can look back and be really, really happy about what we achieved.
"I've played a lot more football this season and that's why I came here. It was a challenge to play regularly, to enjoy my football and have fun again.
"I lost that before at Arsenal and West Ham. It was really important for me to find that emotion again. I needed that, I wanted that and I am so happy."
Chamakh has also hailed the impact manager Tony Pulis has had on all of those at Selhurst Park, with his arrival as successor to Ian Holloway in November proving to be a turning point in the season.
He added: "Tony is very different to the managers I've had before, but he has proved himself well with Stoke and then with Crystal Palace.
"The players here can feel the difference now working under him. We are much better, more confident and stronger in all areas - that came from him."