Premier League: Marouane Chamakh believes Tony Pulis should be named Manager of the Year
Marouane Chamakh has revealed why he believes Crystal Palace coach Tony Pulis should be named Manager of the Year.
Last Updated: 10/05/14 4:52pm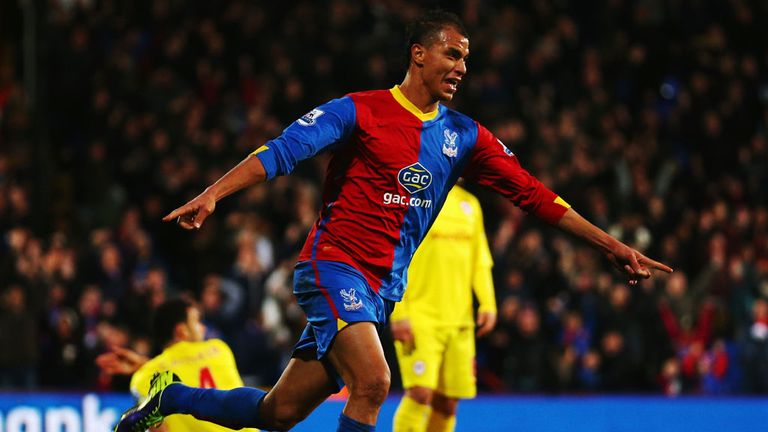 Pulis has given former Arsenal striker Chamakh a new lease of life in the Premier League and guided Crystal Palace to safety against all of the odds.
Palace were rooted at the foot of the Premier League table when Pulis took charge in November but the dramatic resurgence he has orchestrated in the second half of the season could see him beat title-chasing managers Manuel Pellegrini, Brendan Rodgers and Jose Mourinho to the top award.
Palace appeared to be heading for a quick return to the Championship after the 4-1 home defeat to Fulham wich signalled the end for previous boss Ian Holloway.
"He [Pulis] is different to what you expect," Chamakh told the Daily Mirror. "When I was with Arsenal, I watched him when he was at Stoke and thought: 'He either really likes his team or is a little bit crazy.'
"But now I am working with him, I can say that he really likes his team and does everything for them.
"He would be my Manager of the Year, and that is not just because I'm playing with Crystal Palace. He really must be Manager of the Year."
The Moroccan believes the subtle changes brought about by Pulis at Selhurst Park have been key to their revival, which saw them go on a five-match winning streak.
Fantastic
"We really worked differently with the new manager. After that, we followed his rules, how we work and it has worked for us. He didn't change a lot, just a little bit but it really worked for us.
"We worked much more without the ball. From Tuesday, we were already working for the game on the Saturday.
"The manager is fantastic. We don't have the same players as some of the other teams in the Premier League but the gaffer knows how to get 100 per cent from us.
"It wasn't easy for him because he came in November and we were bottom. But he made us all believe."
Chamakh, who has netted six goals in 27 appearances for Palace, is out of contract at the end of the season but is eager to continue working alongside Pulis.
"I want to continue to work with him and with Crystal Palace," he added. "Everything, the atmosphere, the players I work with, I don't want to change anything. I just want to be better and better with Crystal Palace.
"When I came to Crystal Palace, I had two challenges. One was to play and the other was to help Crystal Palace stay up.
"At Palace, we don't play for the Champions League. Our objective was to stay up. Now we've done it, everyone is very, very happy."