Premier League: Crystal Palace's Jason Puncheon had to be dismissed at Arsenal, says Dermot Gallagher
Last Updated: 18/08/14 1:30pm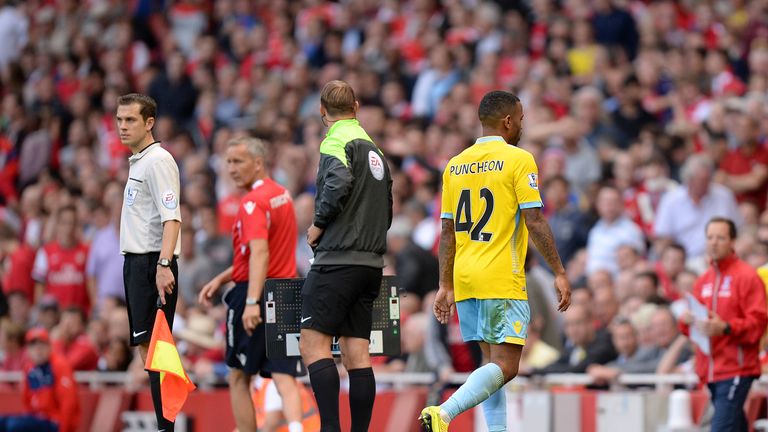 Former Premier League referee Dermot Gallagher says Crystal Palace forward Jason Puncheon can have no complaints about the red card he received against Arsenal on Saturday.
Puncheon was dismissed after receiving two yellow cards from referee John Moss - both for late tackles - in Palace's 2-1 defeat at the Emirates Stadium.
Gallagher insists the former Southampton and Blackpool man left Moss with little choice but to dismiss him as a result of his ill-timed challenges.
"I think the first tackle (on Alexis Sanchez) is late," Gallagher told The Morning View on Sky Sports News HQ. "He knows he's going to get a yellow card which he got quite rightly.
"He missed the ball, it was a reckless challenge, and one where you're going to get a yellow card in the Premier League week after week after week.
"Unfortunately with 90 seconds to go, his second challenge (on Nacho Monreal) left John Moss no option."
Arsenal also had a strong appeal for a penalty turned down when a Sanchez cross struck Marouane Chamakh's arm in the area.
Although players are sometimes penalised in similar situations, Gallagher believes referee Moss made the right call by not awarding a penalty.
"No I don't think it was a penalty," he said. "The ball was played in, he bent in to it and took his arm away as well.
"He's trying to cushion it with his chest and has quite clearly tried to put his arm behind his back.
"The fact that he's tried to take his arm away shows he had no intention of trying to handle the ball whatsoever."