Premier League: Crystal Palace did not want me enough, says Tim Sherwood
Last Updated: 23/08/14 9:58am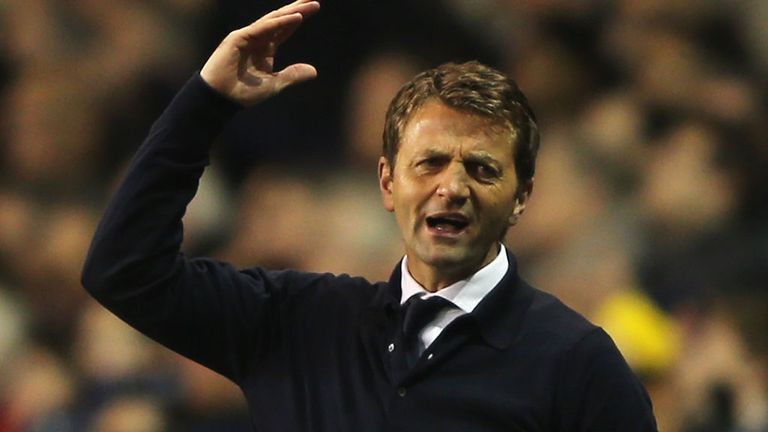 Tim Sherwood has revealed he took himself out of the running for the vacant Crystal Palace job because he was not made to feel wanted enough by the club.
Sherwood, temporarily head coach of Tottenham last season, was interviewed by Palace co-chairman Steve Parish earlier this week, and was thought to be in serious contention for the post along with Malky Mackay.
But Sherwood believes Mackay, who has been forced to withdraw his application over allegations of racist, sexist and homophobic comments made during his time as Cardiff manager, was always the frontrunner for the job.
The former Spurs and England midfielder said: "My feeling when I was interviewed last Sunday was that the race was already run and that the job was going to Malky Mackay.
"(Mackay's former head of recruitment at Cardiff) Iain Moody was in the room during the interview and that did nothing to change my mind that Mackay was the favourite.
"If I had been offered the job early in the process, soon after my interview, I would have taken it. The longer the process went on at Palace and the more names that came up, the more I felt that Steve was keeping his options open.
"I know a lot of managers were interested but at some point, as a manager, you want to know the interviews have stopped and you're the club's first choice.
"That was why on Thursday night my agent sent a message to Steve to say that I was no longer interested in being in contention for the job."
Writing in his column in The Independent newspaper, Sherwood also disclosed his intention to take former assistants at Tottenham Chris Ramsey and Les Ferdinand with him to Selhurst Park.
Sherwood also spoke of his disappointment at the public nature of the race for the Palace job but he remains keen to return to the game.
"I felt it was wrong that it should have got out like that, but then this whole episode has been played out in public," he said.
"It was my intention that the meeting with Steve would be kept private and I hoped that would be the case.
"I am in England watching games and training sessions and continuing my education. I have lots of invitations to do that at other clubs in England and around the world, and I'm ready when my time comes to return the game."