Premier League: Crystal Palace co-chairman Steve Parish won't rush manager decision
Last Updated: 24/08/14 1:40pm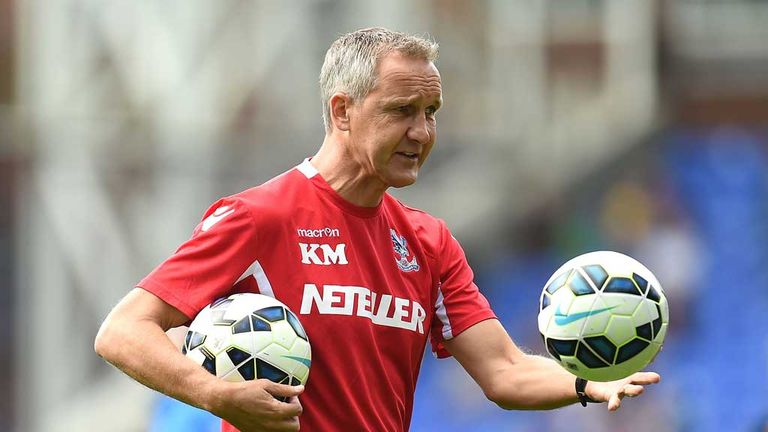 Keith Millen does not expect Crystal Palace co-chairman Steve Parish to make a rush decision on the club's next manager.
Millen is back in temporary charge at Selhurst Park in the wake of Tony Pulis' shock exit from the club earlier this month.
He oversaw a second successive defeat to start the Premier League season on Saturday, when Palace were comprehensively beaten 3-1 by London rivals West Ham.
But Millen is not sure the new man will be in place in time for the end of the transfer window on September 1 now that apparent top targets Malky Mackay and Tim Sherwood are out of the equation.
"If the chairman doesn't find the right person then I don't think he'll rush into it," said Millen.
"He's in no rush to bring someone in, because he'll keep looking until it's the right person.
"He hasn't rushed before and he won't do it again."
Millen remains interested in taking over on a permanent basis, but his focus has turned to a Capital One Cup second round clash with Walsall on Tuesday.
"You just have to deal with day-to-day work, that's how I've become accustomed to dealing with these situations," he said.
"We've got a good squad of players that need to play, so we'll make some changes and hopefully get a result on Tuesday."
One manager who has expressed an interest in the role is Steve Clarke, who confirmed to Goals on Sunday that he would like to talk to Parish.
"I haven't spoken to Palace at all," he said. "They have to make their own choices, if the job is available again Palace will reassess.
"If they make a new list and I'm on it, great. I want to work again and the Premier League is the place to work."