Turning tables
DJ Campbell talks turning things around at Ipswich and QPR's predicament with Rachel Griffiths.
Last Updated: 27/05/13 11:03am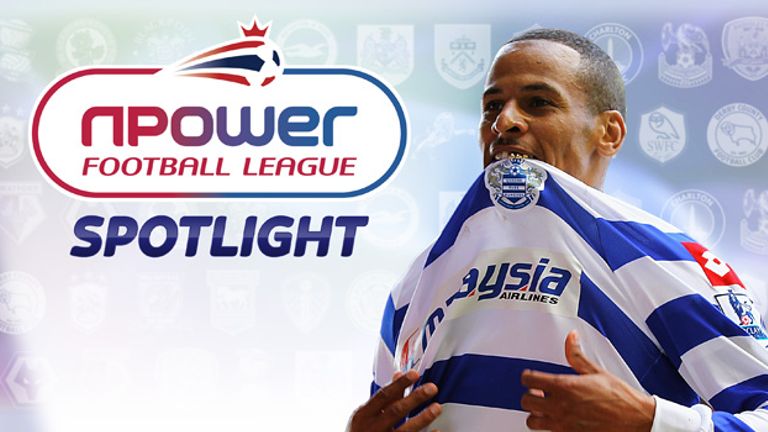 The 2012/13 campaign is now well under way, with divisions beginning to take shape.
Here at Sky Sports we will look to take you to the very heart of the Football League over the coming months, with our Spotlight features intended to give you a greater insight into the clubs and players that keep us on the edge of our seats.
We hope to bring you the views and thoughts of a representative from each of the 72 teams over the course of the season, with those involved asked to give their take on the division they compete in, the club that pays their wages and those we should all be keeping an eye on.
DJ Campbell, on loan at Ipswich from Queens Park Rangers, is next in the hot-seat, with the striker taking time out to discuss turning things around with the Tractor Boys and struggles at Loftus Road with Rachel Griffiths.
Ipswich have endured a tough past few weeks to sit in the bottom three. How's the mood at the club?
Obviously the position we're in isn't the best and hopefully we can sort that out soon with a few more wins. Hopefully that will start on Saturday. The lads, even though we just lost heavily to Leicester, they all want to do well for the club. We're all friends and they've made me welcome since I've come along with the other loan lads. Hopefully we're all pushing in the right direction and sooner or later we can get out of the bottom three and push up the league, which is what we all want. I'm enjoying myself, the lads are a good bunch of lads and the gaffer has come in now as well. The mood is good and it's always been good.
You mentioned the 6-0 defeat to Leicester - how will the players respond to that result?
The gaffer made it very clear after the game that it can't happen again. We lost heavily to Crystal Palace and lost heavily to Leicester, albeit after two good wins. So it was a bit strange. It's something that we have to eradicate out of our game and be more determined and harder to beat. As I've said, we've got a good bunch of lads here that all want the same thing and all want to do well for Ipswich Town. Once you've got that I'm sure it will be a matter of time before we start pushing up the league.
Are there any particular areas you think need work or is it something you have to overcome as a group?
It's definitely a team thing. There's no point in blaming people; blaming the forwards for not scoring or the defenders for not defending or whatever it is. We're all in it together, and that's another thing the gaffer has made clear. We've all got a good understanding with each other and it's a team game. It's when it starts not being a team game that you have to worry. I'm sure things will turn around sooner rather than later.
You've scored four goals in your eight games for Ipswich so far. Are you pleased with how things are going on an individual level?
I'm happy with the way it's gone so far. Criticising myself a little bit, maybe I should add a few more goals. But in general I'm happy. Obviously I hadn't played for such a long time when I came to Ipswich, it's the first time I've actually played since the middle of last year, due to injuries and whatever else it was. I'd like to think I'm getting back to full fitness now and the more games I play, the sharper I get and the more goals I score.
You've established yourself as a regular starter, keeping the likes of last season's top scorer Michael Chopra out of the team. Are you surprised at how quickly you've settled in?
I've always had belief in myself, I always believe I can score at whatever level, whether it's League One, Championship, Premiership, internationally or wherever. I'm a goalscorer and that's what I do. We've got some good forwards here who are chomping at the bit, so it's just down to me to keep doing what I'm doing and keep scoring. Maybe I was a bit surprised, just due to me not being match and not playing for so long with injuries. But with scoring I'd like to think that more often than not, if I get a chance, I'll put it away. Hopefully it will continue and I'll score more goals and we can move up the league, which is the main thing.
QPR are your boyhood club - was leaving for a spell on loan unexpected?
I wasn't in Mark Hughes' 25-man Premier League squad, so at the time it was all I could do really. I'd just got back from injury and I was injured for most of the year last year, so he didn't really see me play. He saw me playing for Blackpool and whatnot, but not when he was the manager of QPR. I had to go out and play and get games and get sharp for myself.
After injuries frustrated your debut season at Loftus Road, is this loan stint the chance for you to prove yourself to Hughes?
You've always got things to prove but I'd like to think that I've already proved myself over the years. I can score goals at the highest level - I've done it before and I can definitely do it again. I'm not sure if I need to prove myself to people but there's always doubters you have to prove wrong. I've scored goals throughout my career and I'd like to think I can still do that. Whether it's putting me back on Hughes' radar is another thing. It's something that we have to look at in January and take it from there really.Do you see yourself staying at Ipswich beyond the winter transfer window?
There are a lot of things I've got to look at in January, and Ipswich is one of them. I'm enjoying myself at Ipswich and there is the possibility of staying there if everything is right. We can look at that in January. Whether I'll go back to QPR is something else we'll have to look at, or maybe going elsewhere. I've just got to look at the best thing for myself and my family and we'll take it from there. I'd be willing to stay if it was right for us.
QPR are another club going through difficult times. As a fan, is it hard to watch them struggle and does it make you want to go back and help out?
It's hard watching them because obviously that's my club and the club I support. I used to go and watch them when I was a kid. To see them not doing great is difficult but that's football. Whether it would have been different if I was there, I can't really say or talk about that because you never know. We'll have to see what happens in January but it is difficult because I'm a fan of the club.
There's a lot of speculation surrounding Hughes' future at the moment. Do you think QPR's owners will stick with him?
I should imagine so. The chairman, Tony Fernandes, has shown a lot of faith in Mark, so whether they sack him or keep him is a question for Tony. But he's backed him, given him a lot of money to spend. Whether it's worked or not is another thing but he's showed his faith in Mark and I would think that he would keep his faith in Mark. But this is a results business. Obviously it's not been great of late but whether that continues is another question. The gaffer might get them playing to the way he thinks they should be playing and they might start winning games. But how long he gets is a question for Tony.
You've already seen a manager sacked at Ipswich this season in Paul Jewell. Were you sad to see him go?
Paul Jewell was a nice guy, I spoke to him regularly when I was here. He's a lovely guy and another good manager that's done great things at Wigan before but for whatever reason it didn't work out at Ipswich. It was difficult to see him go but that's part and parcel of football. We've just got to get on with it. We're professional players and we do the best we can for the club. The main goal is the club. It's not about the players, it's not about the manager, or other little things, it's about the club and the fans really. The fans are always going to be here, the club is always going to be here, but the players and managers change.
How have things changed at Ipswich since Mick McCarthy stepped in as boss?
We've got a manager now who's got plenty of experience at this level, and Premiership level and even at international level. The lads have been delighted we've been able to secure Mick. It was a great appointment from the chairman to get Mick and also (assistant manager) Terry Connor. The manager has been a breath of fresh air since he's come. He's got his own ideas and every manager is different. It's worked so far - we've won two and we've lost two. Obviously the two that we've lost have been heavy losses, but we've managed to win two games which is great. I'm sure it will only get better with Mick and once he gets us playing the way he wants and gets his ideas across, I'm sure we'll start moving up the league.
What are Ipswich's main objectives for this season?
I don't want to get too carried away, but I know once we get out of the bottom three and start putting a run together, and getting our confidence to where it should be. When you're in the bottom three and lose 6-0 or whatever your confidence is low, it does take a knock. So once we get playing to the consistency that we should be playing I'm sure we'll move up the league. And the quality of the gaffer we've got now, whether it's this year or next year, I'm sure he'll get us playing to the way he wants us playing, winning a lot of games. The future is bright for Ipswich football club.
You're at home to rock-bottom Peterborough this weekend - are you looking at that clash as a chance to turn things around?
We've got two home games coming up, Peterborough and Nottingham Forest, and with a bit of luck we can beat Peterborough and come out of the bottom three. It's a game we have to be looking at winning. Don't get me wrong, it's going to be a tough game, as every game is at this level. There are no easy games and Peterborough are no different whether they're bottom or not.