Ipswich agree to release striker Nathan Ellington
Nathan Ellington has confirmed that his contract at Ipswich has been terminated by mutual consent.
Last Updated: 31/01/13 8:12pm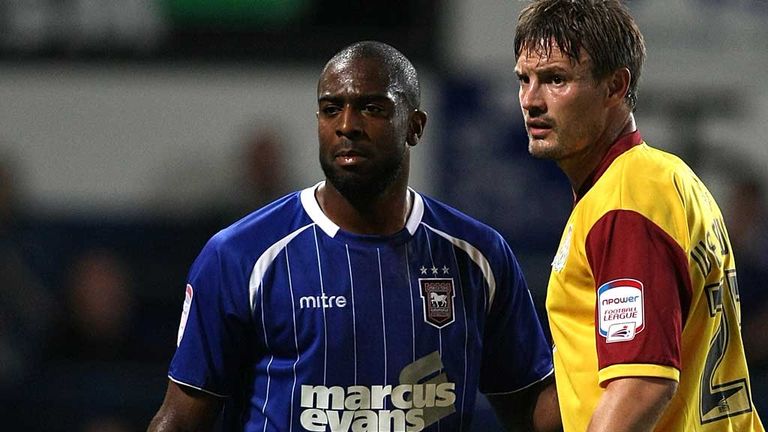 The 31-year-old has been restricted to just 19 appearances since joining Town in the summer of 2011, and only three of them were starts while a recent loan spell at Scunthorpe this season was blighted by injuries and illness.
Ellington, who has scored 119 league goals in his career for Bristol Rovers, Wigan, West Brom, Watford, Derby and Preston, would ideally like to remain in the Championship but accepts a move down the divisions, where he can also use his experience to help younger players coming through, is more realistic.
He told Sportinglife.com: "I didn't see any future here and I think there will be a lot more opportunity for me at another club.
"I'd like to find a new club as quickly as possible really because you don't want to miss out on playing and training for too long because you need to keep your sharpness up. That's the aim and then I can continue the rest of the season and finish on a good note.
"I would obviously accept a move down the divisions now because of what's happened over the past few years with not playing much. Maybe I need to drop down so I can start playing regularly and remind people of my qualities.
"I'm prepared to do that and I've played in all the leagues before so I have experience of how it goes down there. I'm just raring to play football regularly again.
"I'm always helping the younger players and they're always appreciative of it. They always say it's good to train with me so they can get that extra bit of advice as well. Having a player with my experience at a club does benefit others."
The former Baggies striker is also open to a move away from England, adding: "I have played abroad before in Greece so I'm no stranger to leaving England either. That option is not out of the window - I would consider going abroad too. It's just working out which is the best opportunity for me and my career.
"As for Mick McCarthy I have nothing but respect and admiration for him - he's running the club really well. As for me, it's just one of those things that if you're not needed then you have to look elsewhere.
"But I now have an opportunity to move on and that's what I've set my sights on doing. I'm not going to dwell on the past."
Nathan Ellington is represented by ROAR Sport.