Still in the mix
Ipswich's Frank Nouble discusses play-off pushes, putting down roots and international ambitions.
Last Updated: 06/03/14 5:22pm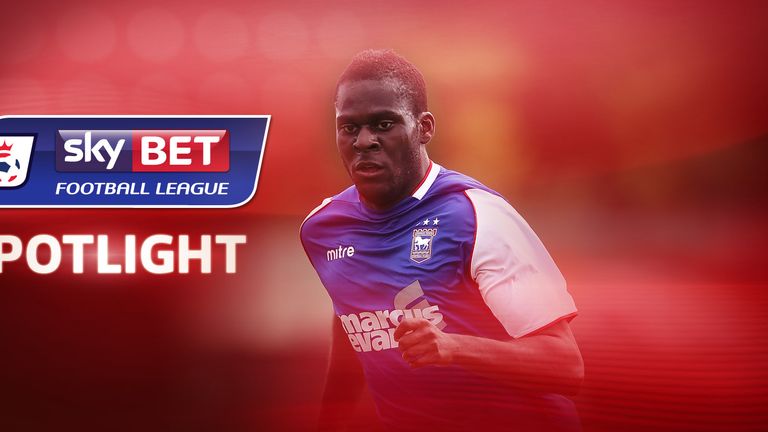 The 2013/14 campaign is now entering the final straight, with divisions beginning to take shape.
Here at Sky Sports, we will look to take you to the very heart of the Sky Bet Football League over the coming months, with our Spotlight features intended to give you a greater insight into the clubs and players that keep us on the edge of our seats.
We hope to bring you the views and thoughts of a representative from each of the 72 teams over the course of the season, with those involved asked to give their take on the division they compete in, the club that pays their wages and those we should all be keeping an eye on.
Ipswich's Frank Nouble is next into the hot-seat, with the Blues forward taking time out to discuss play-off pushes, putting down roots and international ambitions with Chris Burton.
There is all to play for from this point isn't there - 13 games to shape your season?
Yes, it's going to be a massive finish to the end of the season for us. We need to pick up as much as we can and make sure we end it really well.
Are you setting any targets? Are you thinking you might need to win seven or eight of those games to break into the play-off places?
Yes, probably. We have all got a number in our minds, but we don't really want to say. We just want to take each game as it comes. I know it's an old cliché but we've got a lot of games against those teams around us and everyone will be fighting for that last spot.
Your fixture list could play into your hands couldn't it as, like you say, you are going to be playing a lot of the teams in and around you over the next few weeks?
We wouldn't want it any other way, to be honest. We know they are going to be tough matches but hopefully we can get on a run. I'm quite confident that we can. We're just looking to keep pushing on.
At this stage, is playing catch-up no bad thing as it is the sides already in the top six that will be feeling the pressure?
I think playing catch-up obviously has its pros and cons. I think it's nice that we're going to be playing everyone around us. We know that if we are taking points off them then we'll stay in the mix. Hopefully we can keep picking up points and see where that takes us. It's going to be tight, that's for sure, and should be good to watch.
I take it one area you are hoping to improve on is your away form - only three wins on the road so far?
Definitely. I think we have done alright away from home performance-wise but haven't always had the results that we've wanted. Hopefully we can build on that, starting at Middlesbrough on Saturday. We have got two away games now so hopefully we can pick up points and pick up our away form.
Success is often built at home, though, isn't it and you must be delighted with how things have gone at Portman Road?
Yeah, we've done very well at home. We have had a few draws where we thought we should have won, but we've done well. We need to start taking that into our away games and start beating some teams.
You've lost David McGoldrick at a bad time, but are you confident he will be back in plenty of time before the end of the season?
Definitely. We've lost David and he's been doing really well for us. I think the time for him to be out has been cut down by about two weeks so he should be back for the last few games of the season. Hopefully we can put ourselves in a position where he can come in and help push us on.
I suppose it's up to the likes of yourself to chip in during his absence isn't it? Do you feel that you have more to offer on the goal front?
Yes, of course. It's probably about being more confident in myself. Playing more in a forward role, the goals will come.
Are you happy with how things are going overall for yourself - you penned a new contract back in August?
Yes, I am. It's one of those things that you want sorted and you want to know where you're playing. I am really happy with the team and the staff here, everyone is on the same wavelength and we're looking to push on together.
Are you feeling more settled, something you perhaps haven't had prior to joining Ipswich?
It was great to start the year signing a new contract. You know that you have got the faith of the manager. I only signed in January of last year. I was only here for a few months before a signed the new deal, so I must have done well in that first stage. Now I'm looking to kick on, chip in with a few goals as I know I can bring that to my game. I'm only 22, people think I'm much older than I am, so I need to keep working on my game.
You have a lot to look forward to don't you, with international ambitions something you are thinking about as well after opening the door to the Ivory Coast? The World Cup this year is a bit early, but that's an exciting chapter for the future...
Yes, it's a bit early for me. I have been on their radar. I have played for England at U16s, 17s, 19s and 20s, I haven't played U21s, so I have been involved with that. But I think they have come to watch a few of my games and I have done well, so we'll see what happens. I just need to make sure I keep doing well and see what comes with that.
Whatever happens, though, do you believe that the future is bright for Ipswich and yourself?
Yes, the future is very bright. For myself, I think we have got a good thing going. Last year we were fighting for survival when I came in in January. We came through that and I think the manager has done really well. I wouldn't be surprised if we finished seventh or sixth because we have got a really good thing going here.
Frank Nouble was talking to Sky Sports on behalf of Sky Bet, the Title Sponsor of The Football League.
For a wide range of match odds and specials on all Football League matches and a £5 free bet every week, go to skybet.com.