Football League Hour: Adam Virgo explains decision to retire
Recently-retired Adam Virgo, Burnley's Sam Vokes and Reading's Chris Gunter are on this week's Football League Hour.
Last Updated: 25/10/13 3:28pm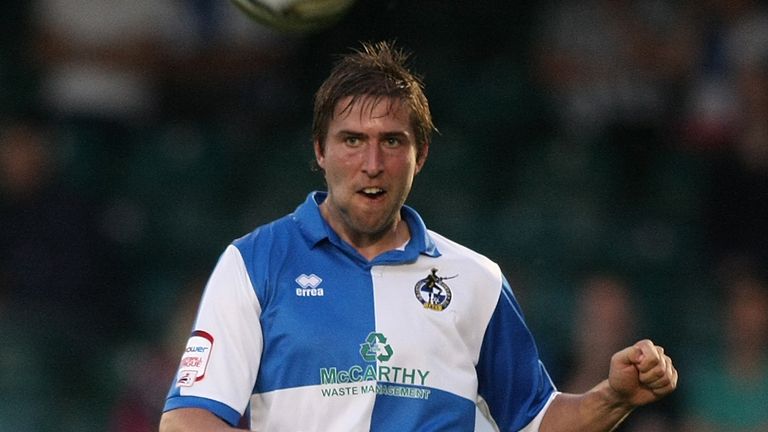 Virgo announced his retirement on Thursday after failing to recover from a knee injury.
The 30-year-old told Sky Sports News Radio's Football League Hour: "I got the injury back in October 2011. I took a year out of the game to try to rehabilitate it but last season I had setback after setback.
"I saw a surgeon in February who told me the knee wasn't very good and that I was getting early signs of arthritis.
"I had one more go at it; come pre-season I went and trained at Crawley then played a pre-season game against Leeds. I just landed from a header and the pain in my knee was excruciating.
"I got home after that and thought 'enough is enough'. You can't keep putting yourself through it. The decision has been taken out of my hands."
Virgo acknowledges he has retired early but believes he could have caused himself problems in later life had he attempted to carry on playing.
"I'm only 30 and I missed all of last year so I finished at 29 really," he said. "But these things happen in football and you need to accept it. You don't want to keep fighting it (by continuing to play) because you don't want to do yourself permanent damage.
"I didn't want to carry on playing and end up crippled at the age of 40 and not be able to enjoy family life and be a dad.
"I want to be the best dad that I can be and walking away from the game for the sake of my son, for me to be a proper dad, was probably the pivotal point of me hanging up my boots."
Despite only officially announcing his decision to retire on Thursday, Virgo has already been hard making plans for life off the pitch.
"I'm not missing the game as much as I thought I would," he said. "I'm looking to progress now with my life; football played a massive part of my early life but you need to look forward. There's more to life than being a professional footballer.
"The media side of things is really interesting me, but of course coaching as well.
"I really enjoy coaching kids. Brighton and Hove Albion have given me an opportunity to work in their academy already, which I've already taken up, and the media side of things, you just try to get on air as much as you can."
Also on this week's show was Burnley striker Sam Vokes ahead of the Sky Bet Championship table-toppers' game against second-placed QPR on Saturday.
Vokes accepts his side are the season's surprise package so far and believes their thin squad could actually be helping their promotion cause.
"You never know what to expect," Vokes said regarding the Clarets' aims going into the season. "We had a good pre-season and the games come thick and fast and we've managed to pick up the points.
"We've got a limited squad at the moment but that's almost made us stronger because a lot of the lads have played most of the minutes on the pitch so everybody understands each other.
"Within the squad we've got that level of confidence that keeps on rolling into the next game. We've got a tough game at the weekend but hopefully we can take it into that."
Charlie Austin is likely to pose QPR's biggest threat at Turf Moor, but Vokes is confident the Burnley defence can keep their former team-mate quiet.
He added: "He was a good team-mate of mine, he's a good lad and he obviously did fantastically for the club last season, but I think our defence are looking at it that they know him inside out so maybe it'll work in our favour."
Reading defender Chris Gunter, meanwhile, told the show he and his team-mates have quickly settled back into Championship life following their relegation from the Premier League last season.
"It's gone quite well so far,"he said. "When a team gets relegated everybody is looking to see how you start the season and I think people ask 'is there a hangover from the relegation'?
"We've been really good at home and we've settled back into it quite well. A lot of the squad know the league and have played in it before which I think is a big factor."
Gunter acknowledges the expectations of Reading outside of the club but insists nobody within it has taken the Championship lightly.
He said: "When Nigel Adkins come in towards the back end of last season we had a couple of good months with him and we ended quite well in the Premier League so people in the summer were saying we'd go straight back up.
"But from playing in the league before, which the majority of the squad have, we know how tough the league is."
"You can't think you're one of the better teams because you're capable of going into any game and getting picked off. We've settled in quite well and we're going along quite nicely.
Also on this week's show are on-loan QPR midfielder Shaun Derry, Preston striker Kevin Davies, Bradford defender Andrew Davies and Plymouth defender Guy Branston.
Listen to the full Football League Hour via the Soundcloud player below.