Sean Dyche insists there is no secret to Burnley's success after they sealed promotion
Burnley manager Sean Dyche has insisted there is no secret to their success after they sealed promotion.
Last Updated: 22/04/14 3:46pm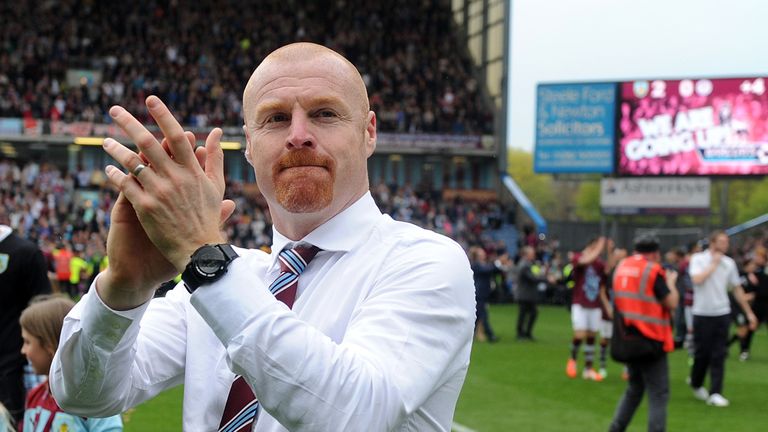 Dyche's side were huge outsiders to return to the top flight - they spent one season in the Premier League in 2009-10 - but are back in the big time following their 2-0 win over Wigan on Easter Monday.
"I'm not sure there's a secret," Dyche told Sky Sports News. "I believe in what I do and the common core values that are important for a team.
"They go beyond just the tactical approach and look at the mind set and I think I do that well - and the group believe in it.
"I've got enough humility and an understanding of the job - I've been sacked already as a young manager which was a good learning curve.
"I probably wasn't most people's first choice when I came to Burnley so I think I proved that I can handle myself in the appropriate manner.
"But it eventually comes down to players - and my players have been fantastic."
Dyche admits that Burnley will face a struggle to stay in the Premier League but is adamant the club will not over-spend and risk financial ruin in an effort to avoid relegation.
"We are a club of a certain size," he added. "I'm sure there will be lessons learned from the last time the club were in the Premier League and it's important the finance is used wisely.
"Of course we want to improve the team where we can but it has to be in a sensible manner because the club has to survive going forward and it's a chance to build the infrastructure and improve the club for the long-term future. But we still want to be competitive.
"We know there's a big challenge coming - we know we'll be written off from the start as is often the case with small clubs coming into the Premier League. We were written off this season - so who knows?"
Burnley chief executive Lee Hoos has promised that there will be investment in the squad - and revealed that the board had been planning for promotion for three months.
"There will have to be some investment on the pitch of course," he said.
"We want to give ourselves a fighting chance for next year. But it is not just about the next 12 months but about the next two or three years. This is another solid platform on which to build.
"Premier League requirements are pretty substantial in themselves. A lot of it is very media driven, such as extending the TV gantry, putting in new camera positions and hard-wiring the stadium with some expensive pieces of kit.
"The Premier League very kindly sent us a list of their requirements in February so we have done an audit and we know exactly what we need to get done now."