Sky Bet Championship: Burnley lead way for making least number of team changes
Burnley boss Sean Dyche rotated his starting line-up the least amount of times across 158 clubs in England and Scotland.
Last Updated: 08/05/14 4:13pm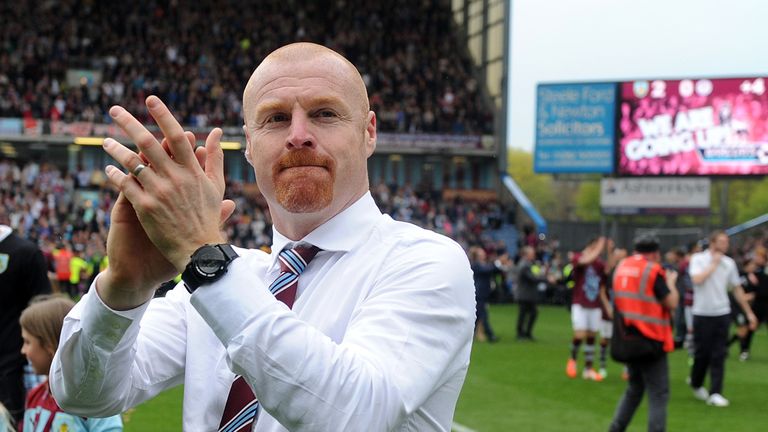 In fact, the Barclays Premier League-bound Clarets boast a statistic no other team in England or Scotland can match.
Dyche, from game to game, rotated his starting line-up less than any other manager in the top five divisions in England and the top four leagues in Scotland.
That means Burnley, who last month secured a return to the top flight, are first out of 158 clubs for continuity with an average of 10.2 players starting who also started the previous fixture.
The Clarets and champions Leicester also maintained their place in the Sky Bet Championship's top two having used a league-fewest 23 players.
That would not have been possible had the treatment table at Burnley's training facility had many visitors this year. Thankfully for them, it has not.
Cynics will argue the east Lancashire club have benefited from luck. Not the man tasked with making sure Dyche has every player available to him.
"Any injuries are too many injuries," Mark Howard, Burnley's head of sports science, said.
"We genuinely believe that we can reduce, almost completely, the soft-tissue injuries the players have by training them appropriately, and the lads have been first class in training."
Howard moved to Turf Moor just over a year ago after working with Sam Allardyce, viewed by many as a pioneer in the sports science field, at Bolton, Newcastle and Blackburn.
Upon arrival Howard vowed to "make the players available as often as possible and as fit as possible" - a promise he has kept to Dyche each morning during the daily coaching briefings.
"We want to be in that meeting and saying, 'everyone's available'," Howard added.
"We all ask questions within the building when there are any injuries. It disappoints us. We feel it's our job to make sure that doesn't happen.
"That's why, when we've had such a special year, it's good to be able to say we've managed to get the squad available for the manager to select most of the year."
So what is that Burnley - whose captain Jason Shackell was the only outfield player in the division to play every minute of every game - are doing differently?
"One thing that we don't have to do here is worry about players not having done enough," Howard noted.
"When they do train, they train properly. The football training sessions delivered by the manager, (assistant manager) Ian Woan and (coach) Tony Loughlan are set up to give them the appropriate amount of work and because we know if they apply themselves properly in the work that we set then there are no problems with fitness.
"It has been mentioned that we train so hard that sometimes the games feel easy, which is a good position to be in."
Nutrition, too, has a role in maintaining a modern footballer's peak condition.
"There's no way of cheating the system, taking a tablet and making you recover and perform very well," Howard said.
"It's about hard work and getting things in the right order. Nutrition is a big part of what we've done this year. We like the lads to be lean and if you get the nutrition right they'll be healthy and will recover and be ready to play another game."
More often than not they have been ready.
Dyche employed an unchanged starting XI on 21 occasions this season - more than any of the other 157 clubs in England and Scotland.
"Sean is a big believer in sports science, and so am I," said Foxes boss Nigel Pearson, who deployed an unchanged line-up 20 times.
"Our injury prevention has been a big part of our success. It allows you to operate with less players and, the fewer players that you use, you've got a better chance of consistency and a settled method of playing.
"Both sides who have got automatic promotion have had long spells where they've had settled sides."
The challenge at Turf Moor next season will be to once again defy critics by avoiding relegation - a target which will be more attainable should Howard continue delivering good news in those morning meetings.
He concluded: "We want to continue having all the squad available for all games in the Premier League, look at our performances and be a team that's known to be a very physically fit team that delivers the philosophy of the manager."