Transfer news: Sean Dyche determined to add to Burnley ranks
Sean Dyche is determined to add this summer, but insists he will not be looking to 'replace' anyone at Burnley.
Last Updated: 27/05/14 12:36pm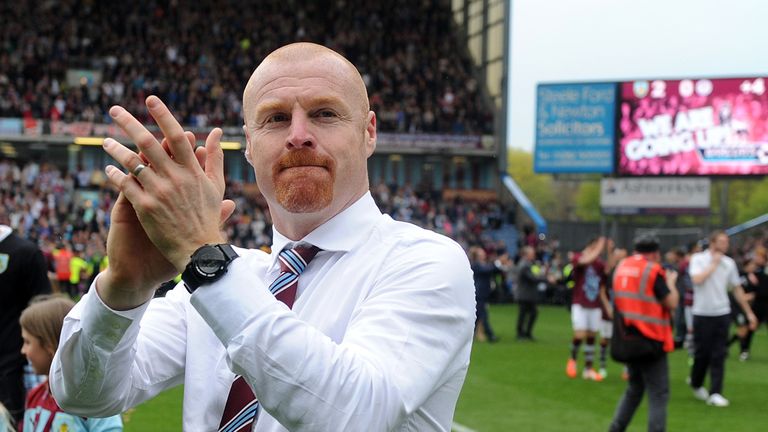 Having guided Burnley back to the Premier League, building for the top flight has become a top priority ahead of the re-opening of the transfer window.
Dyche used just 23 players in 2013/14 as a settled side secured a runners-up finish in the Sky Bet Championship.
He acknowledges that squad depth will be vital as he takes a step up the ladder, with it his intention to build on what he already has rather than overhaul the playing staff at Turf Moor.
Dyche said in the Lancashire Telegraph: "If you think about it rationally, in our world we've got that small a squad it's not about replacing anyone, it's just that we need more players - it's really simple.
"Whereas if you're the average club that go up, say like Cardiff last year, with probably 27 players under contract, that's a different thing because you are then looking at players who are probably at some point going to replace the players.
"With us, it's more building a group. It's not whether they're going to play or not, it's whether the challenge of the group can bring the best out of each other moving forward, and that really is just simple facts.
"We haven't got big numbers, and a few have gone now so we've got less numbers.
"So we have to strengthen no matter what, but not necessarily to replace people, just to add to the group and add to the power of the group."
Dyche saw 2013 summer signings Tom Heaton, David Jones, Scott Arfield and Michael Kightly make telling contributions during a successful promotion push and is hoping to enjoy similar success 12 months on.
He added: "Player trading is not an exact science - whether they're paid for, whether they're free transfers.
"I've been in the game a long time and so have my staff. We make sure, to the best of our ability, we can check out people both on and off the pitch, their backgrounds, what they're about, what they're like.
"We've done well with it so far, but it is only so far.
"Money now comes into it, agents now come into it. Last year we didn't have any to spend so it was kind of easier in a way because obviously you're only looking at a certain market, and the best of that market, whereas now the market's opened up a little bit.
"In the grand scheme of the norm of the Premier League, we'll still be at the bottom of that in terms of spending etc.
"So it will certainly still be about aligning the right types, not just the right players. They have to fit with the model and the belief in what we've got here."