Northern Ireland's Daniel Lafferty excited by Uruguay and Chile tests
Northern Ireland's Daniel Lafferty is looking forward to testing himself against quality attackers in the next week.
Last Updated: 28/05/14 4:28pm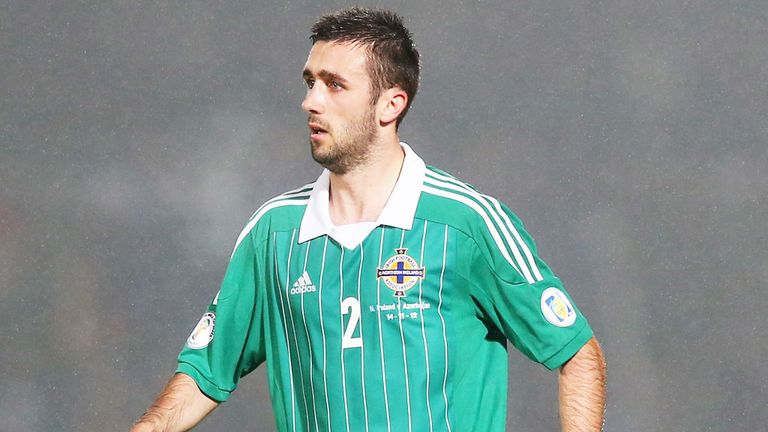 Lafferty is part of manager Michael O'Neill's squad which is preparing from friendlies against South America pair Uruguay and Chile.
The visitors will play in Montevideo on Friday against Uruguay, who will be missing the injured Luis Suarez but can still call on Edinson Cavani. They then head to Chile where Barcelona striker Alexis Sanchez is likely to feature in the match on 4 June.
With both opponents making their final tune-ups for the World Cup it promises to be a tough ask for the Irish, but Lafferty is eager to meet it head on as he prepares for life in the Premier League next season with Burnley.
"Where do you start with teams like Uruguay and Chile? No matter what side they put out they possess unbelievable quality and they draw their players from the top clubs throughout Europe and South America," Lafferty said.
"They're going to the World Cup and they're going all out to prepare for that so it will be a phenomenal experience and one I was never going to pull out of.
"It's a massive opportunity, maybe a once-in-a-career chance.
"When you play against nations like these - or Portugal and Russia in the last campaign - you can test your wits against the best and that helps going back to your club when the manager sees that."
Lafferty concedes his is still coming to terms with Burnley's promotion from the Championship, and he is already looking forward to away days against the likes of Manchester United and Liverpool.
"I'm not sure if the reality of playing in the Premier League has fully sunk in yet," Lafferty said.
"I'll be pinching myself when I do. To walk out at Old Trafford or Anfield would be unbelievable considering where I was three years ago.
"It will be an amazing experience to get the chance of playing in those kind of arenas against some top-class opponents.
"It's very exciting for me to have signed a new contract and I'm quite flattered by it to be honest. I didn't play as much as I'd like this season, and only about 40 times since I've been at the club, so for the manager to turn around and give me three years, as a player with no Premier League experience, was a boost.
"There are guys who played a lot more than me this year who've been let go, so for the manager to show that faith in me is very nice and I want to repay that on the pitch in the next few years.
"In pre-season, I want to be competing and fighting for my place."