Premier League: Burnley boss Sean Dyche ready for Angel di Maria debut
Last Updated: 29/08/14 8:45pm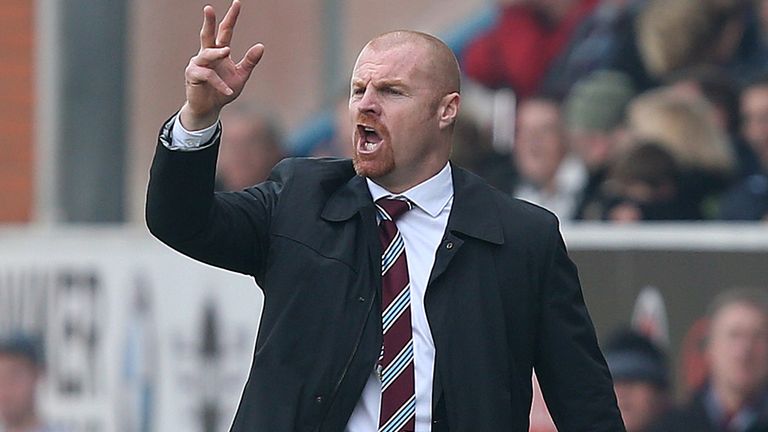 Burnley boss Sean Dyche is ready for anything Manchester United manager Louis van Gaal might have up his sleeve in terms of new signing Angel di Maria.
United broke the British transfer record this week, paying Real Madrid £59.7million for the Argentina winger and he is set to make his debut at Turf Moor on Saturday lunchtime.
Van Gaal has favoured a 3-5-2 system in his United selections so far and it remains to be seen where Di Maria will fit into that formation.
Dyche feels his opposite number may make a tactical change to accommodate the most expensive player in British football history.
"It would be brilliant if he plays on the bench or in the stand," joked the former Watford boss.
"He's a fine player. It's very rare that astronomical fees are paid for players that are not at the top end of the market. I think he could fill a number of positions.
"Who knows? He might have one up his sleeve where he changes. He might feel that tactically it's time to change or it's appropriate for this game.
"It's a new face, a new player, someone who can operate wide and can operate in other positions. He might feel it's time to go 4-3-3, which is particularly a Dutch way, unless he is true to his word and is sticking to this philosophy no matter what."
Dyche does not feel Manchester United are a club in crisis, despite losing 4-0 at Sky Bet League One side Milton Keynes Dons in Capital One Cup action in midweek and having taken just a point from their first two league games.
But he does feel the 3-5-2 system is a difficult one to implement because of its radical nature.
"I think the word 'crisis' is harsh looking at their players," said Dyche.
"They've got some fine players. With tactical formats, I do think the 3-5-2 is the most radical change so it takes time for that to work.
"The power of Manchester United and the market means he may have ideas and designs over the next few days to get certain players who can do roles he feels that are not being done as well.
"I don't know him, I've never worked with anyone who knows him. It will be interesting to have a coffee with him and ask him (about 3-5-2).
"I don't know whether I'd get that chance but I would be interested in that. I'm a young manager learning and I'm always interested to hear what they have to say. If we do get that time I will ask him.
"From the outside it looks like he's strong in that philosophy, he believes it can work and he's going to mould the team accordingly and possibly add to it as he sees fit."