Fergie impressed by Lambert
Sir Alex Ferguson has praised Paul Lambert for the job he is doing with Norwich and does not think the Canaries will suffer relegation.
Last Updated: 25/02/12 12:23pm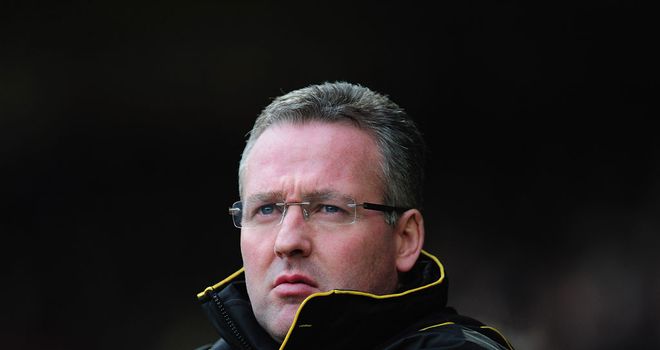 Sir Alex Ferguson has praised Paul Lambert for the job he is doing with Norwich and does not think there is any danger of the Canaries suffering relegation.
Lambert's men have confounded pre-season odds that had them tipped to make a quick return to the Championship.
Having only spent one season in the second tier after scrambling out of League One, just being back among the elite represented a fine achievement for the Canaries.
But now, with 35 points to their name and 14 matches still remaining, Ferguson is confident Norwich are already safe.
"It is difficult to say who is going to go down," he said ahead of Manchester United's trip to Carrow Road on Sunday.
"When you look at the bottom of the league, there are five teams from 19 to 21 points. There is not a great deal of leeway there.
"But 21 to 35 is a big gap and I think Norwich are okay.
"They look as if they are enjoying themselves and it is always a good atmosphere at Carrow Road. They get a full house every game."
Enthusiasm
Although Oxford were the opponents for Ferguson's first game as United manager, in 1986, Norwich was the place where he secured his first point, thanks to a goalless draw seven days later.
However, whilst United were beginning an admittedly long climb back to the summit of English football, Norwich's fortunes eventually declined, only for one of Ferguson's fellow Scots to turn the entire situation around.
"I knew Paul Lambert as a kid at St Mirren," said the United boss.
"He played under my brother Martin when he was a coach there.
"He had a great career, winning a European Cup winners medal with Dortmund, then going to Celtic."
Lambert cut his managerial teeth at Livingston, before moving on to Wycombe, then Colchester and now Norfolk's finest.
"Norwich is a good club to go to for a young manager," said Ferguson.
"The expectation is not too high. But there is a lot of enthusiasm and he is doing well."