Kean insists Rovers are united
Blackburn manager Steve Kean insists his relegation-threatened squad are still a close-knit group.
Last Updated: 20/04/12 3:56pm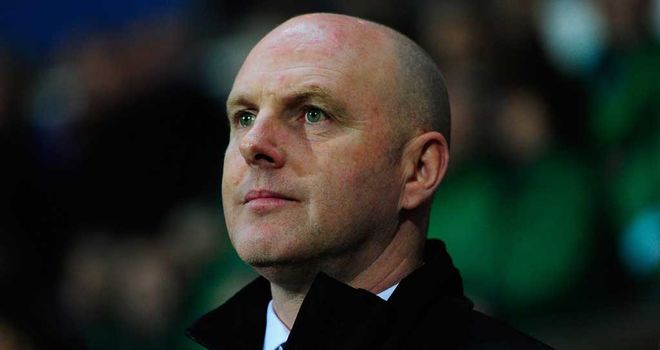 Blackburn manager Steve Kean insists his relegation-threatened squad are still a close-knit group.
The comments come after defender Gael Givet was ruled out of last weekend's game against Swansea with Kean suggesting the player was "not in the right frame of mind".
But the Rovers boss claims any issues with the France international have now been resolved and the team is focused on beating Norwich at Ewood Park on Saturday.
A run of five consecutive defeats has left Blackburn in the drop zone but Kean believes there remains a positive atmosphere at the club.
Asked about Givet, Kean said: "There were things that seemed to surround us, as always, and there was meant to be a problem when there wasn't.
"Gael came into the office and spoke with me and was very positive with his outlook so I'm delighted he's going to be back in the side.
"When I spoke to him last week I didn't feel he was in the right frame of mind, this week he has been magnificent after our chat."
Understanding
And Kean insists the incident has not affected the dressing room.
He added: "You might go to work one day and not really feel that great and if you have a good boss they will be understanding, and I felt I dealt with it well.
"To a man the players have all trained well and there has been a good positive atmosphere with no nervous edge."
Blackburn go into the weekend's fixtures three points from safety and looking increasingly likely to be relegated from the Premier League.
But Kean remains upbeat and is taking heart from Rovers' performance at Norwich earlier this season in which only a dubious last minute penalty decision denied them all three points.
He added: "Any team can go on a bad run, it doesn't make you a bad team.
"This is 100% a three-pointer. We feel we owe Norwich one. We felt hard done by at Norwich when we didn't get all three points earlier in the season - that day we were well worthy of the win.
"The second part of the season they have done well but this is almost a cup match - form goes out of the window."
Targeted
Kean also leapt to the defence of midfielder Steven Nzonzi, who was targeted by unhappy fans during the 3-0 defeat by Swansea, and whose body language appeared to be defeatist.
He said: "I think that it's harsh to put all that responsibility on one person.
"Steven's played every minute of every game apart from two when he was suspended and one when he was ill.
"That can catch up with you and we have not had the advantage of being able to rotate central midfielders as much as other clubs so there has been a burden on Steven."
A pre-match protest by Blackburn fans will take place on Saturday, now a routine occurrence at Ewood Park, but Kean said it will not affect the players' approach.
"Demonstration or no demonstration, it's our responsibility to get all the fans happy and excited by the way we approach the game," he said.