Ruddy admits safety slide
John Ruddy believes achieving Premier League safety has impacted on Norwich's recent performances.
Last Updated: 10/05/12 11:55am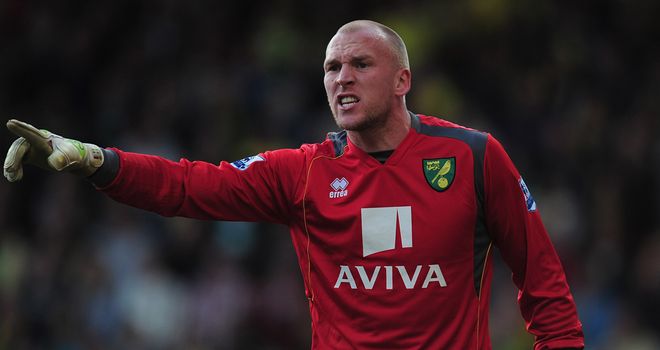 Norwich keeper John Ruddy believes achieving Premier League safety has impacted on recent performances as he targets a win over Aston Villa to end the season on a high.
The Canaries were seen by many pundits as among the favourites to go straight back down after winning promotion to the Premier League last term.
But Paul Lambert's side have confounded their critics and earning four points over Easter all-but mathematically secured top flight football for another term.
The Canaries then suffered three defeats on the bounce before pulling off a fantastic 3-3 draw against Arsenal at the Emirates last time out.
Now Ruddy is targeting victory over Villa in Sunday's season finale at Carrow Road.
Collective performance
He told The Pink'un: "Although there was never a question mark over the effort we were putting into the games, the collective performance probably wasn't there as it had been all season, because of different circumstances - in tiredness maybe, the mental strain and just everyone having that weight lifted off their shoulders knowing you're safe. It does things to people.
"And that's going to happen, it's the nature of the game.
"But we put ourselves in that situation to be able to really enjoy the last five games of the season.
"We haven't enjoyed the last three but Arsenal was very enjoyable.
"We got another point towards our total and if we can finish on an even bigger high in front of our home fans - you've seen them at the Emirates, it was an unbelievable atmosphere - if we can give them a win from the last game of the season to take into next season, then that would be brilliant."
Clean sheets
While Ruddy is disappointed to have kept just two clean sheets this season, he would gladly trade them if it meant staying up again next term.
He added: "We knew it was going to be tough this season and we knew it was going to be tough to keep clean sheets against these teams with the way we play as well - it's not a defence-minded team.
"To keep two clean sheets is disappointing, but the amount we probably deserved hasn't been reflected by that.
"Next season is all about solidifying us as a team, but if we can finish in the same place next season with no clean sheets then so be it. It doesn't matter how many clean sheets you get as long as you are in the league."