Canaries searching for boss
Norwich City chief executive David McNally has confirmed to Sky Sports that the club are searching for Paul Lambert's replacement.
Last Updated: 01/06/12 3:22pm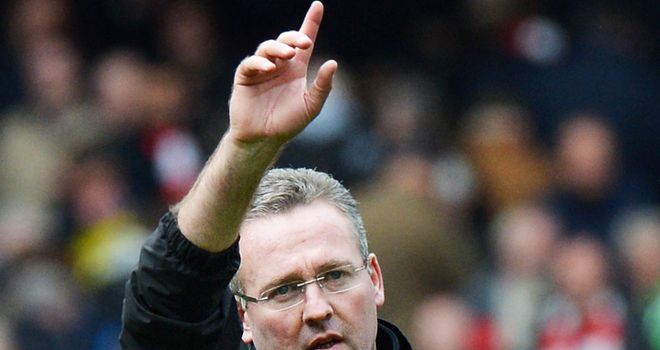 Norwich City chief executive David McNally has confirmed to Sky Sports that the club are searching for Paul Lambert's replacement.
Lambert offered his resignation on Thursday, amid interest from Aston Villa, but Norwich rejected his request.
However, talks are ongoing between the two clubs over compensation and once that is agreed McNally has confirmed that Lambert's resignation will be accepted.
"We are looking for a new manager, that is likely to be what we concentrate on for the next few days, weeks maybe," McNally told Sky Sports News HD.
"We are in a situation where we were approached by another club asking for permission to speak to Paul Lambert, we didn't grant permission and were very clear we wanted to keep our manager who has been incredibly successful.
"Then when it was indicated by our manager that he wanted to speak to the club the dynamics changed, and so then it is about talking to them about compensation and agreeing compensation and a time frame, and we are still in this process."
Search
He confirmed that once compensation was agreed with Villa, then they would officially accept Lambert's resignation.
"Paul did tender his resignation which we didn't accept but that is our right, and we would look to get a conclusion on this - the lawyers will be involved and compensation has to be agreed and if it is agreed then permission would be granted and we can focus on our search for a new manager.
"We knew one day he might leave and three years is probably twice the average tenure in the Premier League and we are very grateful to Paul.
"I have to say that Paul Lambert has been fantastic for this football club over three years and will quite rightfully take his place in Norwich City history and we will always be grateful for what he has achieved."
McNally was quick to deny some reports that he had clashed with Lambert over budgets.
"We would like to keep him at the football club, he has done brilliantly for us and we think we have been for him," he said.
Speculation
"There has been lots of wild speculation about a wage ceiling, but there isn't one at this club, there has been lots of wild speculation about you can't have this player or that player."
He confirmed that they would now begin their search for a new manager, but denied making an approach for Malky Mackay or Neil Lennon, two of the early favourites for the role.
"We will look at the market and it is about having a manager who is hungry and committed and we will have to check out their knowledge, skill, experience and their attitude, those are attributes that are important to us," he said.
"It is interesting I have seen it reported we have contracted them [Cardiff and Celtic], but we haven't and I would like to put that on record.
"Celtic and us get on very well but I can confirm that no approach has been made to Neil Lennon, we would go straight to them quietly and privately."