Norwich City find themselves back in profit and have enjoyed a leap in revenue
Norwich City have reported a profit for the first time in three years and revealed a big leap in overall revenue.
Last Updated: 20/10/12 10:36am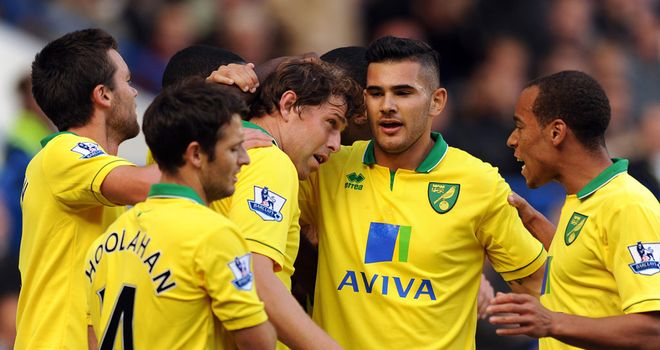 The club's latest set of accounts showed a profit after tax of £13.5m and overall revenues rising from £23.21m in 2011 to £74.3m, mainly thanks to the increased funding from their improved league status.
A statement from Carrow Road said all spare cash had been "reinvested into football at the appropriate time" with £12.4m as a contribution to their player transfer fund for the 2012-13 season.
The Canaries also hope to wipe out their remaining external debt by the end of the season.
Chairman Alan Bowkett said: "We are very pleased with these sets of results because it is just another step for us to take to achieve our objective to become a self-sustaining, established Premier League club.
"Once we have paid off all our debt, we run our football club as a mutual co-operative, all excess cash then, which used to pay down debt, can go into our football budget.
"We are planning to be in the Premier League next year because the finances and the management of the club has gone better than we planned and that's thanks to all employees; management and football."