Norwich boss Chris Hughton is calm ahead of Saturday's trip to face Aston Villa
Norwich boss Chris Hughton is calm ahead of Saturday's trip to face Paul Lambert's Aston Villa.
Last Updated: 26/10/12 2:05pm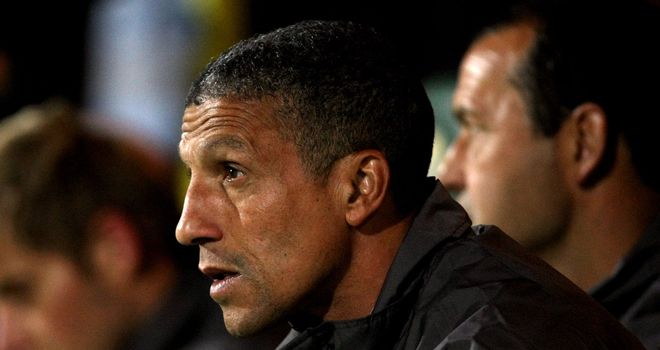 Lambert and the Canaries are still in the process of suing each other over the Scot's acrimonious summer departure - but Hughton has denied his side will take a mentality of revenge to Villa Park.
He said: "We are up against a good Aston Villa team who are playing at home and will have a great support behind them.
"Whether we are fighting for three points at Aston Villa or anywhere else doesn't make any difference once that whistle goes.
"In some ways it's different because of the previous manager but that is a very small detail. The bigger detail is that it is three points to play for and I'm sure from Paul's point of view it will be exactly the same.
"We'll have a group of players who will be very grateful to Paul for the magnificent job he did here but once the whistle goes there is only one objective. That is how any of our players will see it.
"I can absolutely guarantee that once the game has kicked off it will be about 11 v 11 and not managers."
Hughton has found it difficult to maintain the free-flowing form of last season but last week's 1-0 home win against Arsenal, their first victory of the current league campaign, has brought renewed confidence and they lie one point ahead of Villa, who in turn are one place above the relegation zone.
Hughton said: "Generally, the morale has been very good. Of course there is always a better feeling after a win, and a well-deserved win for us.
"Very quickly it is about getting down to doing the business again, learning all we can from the last game and remembering again perhaps what we had not done so well in the previous games.
"Arsenal was a stiff test and this will be no different. You can only ask them to do the same things, which is to work hard and be as disciplined as possible to cause a threat at the opposite end.
"So much of what happens on a match day itself can be fortune and luck and getting the rub of the green but what comes before that is you have to have a work ethic that gives you a chance.
"If you have the quality on top of that then you have a better opportunity to get a result. We need to keep the basics rights and we did in the last game."