Norwich boss Chris Hughton says his team must not sit back against Manchester United
Norwich boss Chris Hughton has vowed his team will not sit back against Manchester United on Saturday.
Last Updated: 17/11/12 4:50pm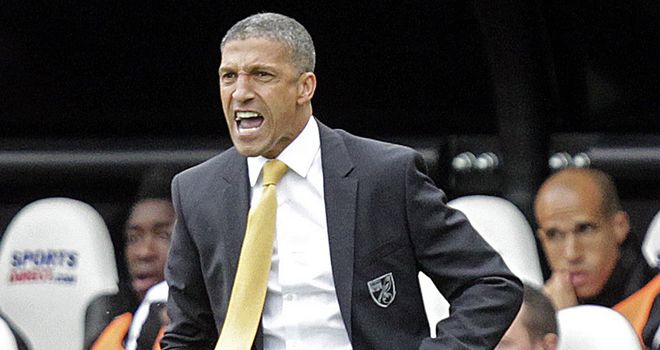 Although United are sweating over the fitness of strikers Wayne Rooney and Robin van Persie, they head to Norfolk riding high at the top of the table.
But with their opponents securing a haul of eight points out of the last 12 to lift them away from the drop zone, the Canaries can face Sir Alex Ferguson's men in buoyant mood.
"It is a problem because of the quality United have got, so you have to make sure that, as a team, you are set up well enough that you are going to be difficult to play against," Hughton said.
"You have to make yourself harder to beat and harder to penetrate, but you also have to have a share of the game because if you sit back for 90 minutes, there is only going to be one outcome.
"But you can't drive yourself mad, there are so many different avenues United have and you have to put more emphasis on your own team.
"It is not a game where you are going in settling to lose. We are going in to get a result. How are we going to get a result? That is what our main emphasis has to be.
"It is a defeatist attitude heading into any game admitting you are not going to win - you have to go into the game demanding that you play well enough to win it.
"Ultimately, against the quality of teams like Manchester United, you can play well enough and still lose the game, but if you are not playing well enough, you don't have that opportunity.
"We will need every bit of what we have shown in the last few weeks to get something from the game, but it is possible."