On-loan Kei Kamara determined to seize chance at Norwich
On-loan Norwich striker Kei Kamara is determined to seize the opportunity to make an impression at Carrow Road.
Last Updated: 11/02/13 9:52am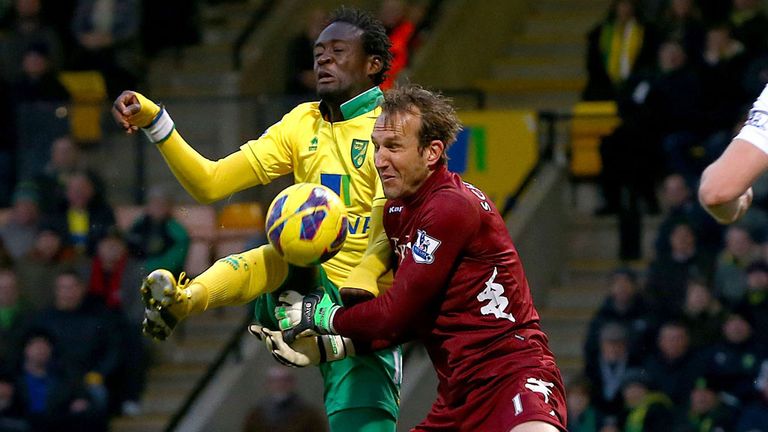 Kamara has come a long way since fleeing the battle fields of Sierra Leone's civil war and migrating to America as a refugee.
The latest chapter in the 28-year-old's journey has brought him to the Premier League on a loan deal from Major League Soccer side Sporting Kansas City until the end of the season.
Kamara came on for the closing stages of Saturday's goalless draw against Fulham, injecting some life into a game devoid of creative spark.
The 28-year-old, who had an unsuccessful trial at Stoke in December, admits his path to the English top flight has been far from straightforward, but is an opportunity he will aim to seize.
"I left Sierra Leone after the civil war ended, when I was 14. I lived in Gambia for two years and at 16 I moved to the USA through a refugee programme, so I could go to school," said Kamara.
"I figured out to get scholarships at college I would have to play soccer, so I did that for two years. Then I got drafted to the MLS and have been in the league for seven years and now I am here."
Kamara is already a cult figure among Norwich fans, having made a big impression with his positive interviews and through social media.
He added: "I am just honoured to be here. It gave me goosebumps just warming up on the side and hearing my name being called. I loved it and I am looking forward to playing more games here."
Fitness
Norwich manager Chris Hughton accepts Kamara needs more match fitness, having only trained with his new team-mates for a few days after his midweek arrival from the United States.
"I don't think it is far off. By the next game I should definitely be in shape," said Kamara, who has headed off with the rest of the Norwich squad for some warm-weather training in Abu Dhabi as they have no match for a fortnight.
"It is about working hard from now and making it a regular thing.
"I am a man who can score some goals, but it is also about work-rate - when you come into a team like this and see people working so hard, if you can work as hard as them then the goals come easily."
Norwich have an option to buy Kamara should his short-term move from Sporting Kansas City prove a success.
The striker said: "I belong to Kansas City, but I am not here to mess around and just hang about.
"I am coming here to make a statement about myself and show I can play amongst people I have watched on television."