Robert Snodgrass believes fitness key when Norwich face Southampton
Robert Snodgrass believes extra fitness could give Norwich a vital edge when they face Southampton.
Last Updated: 09/03/13 2:09pm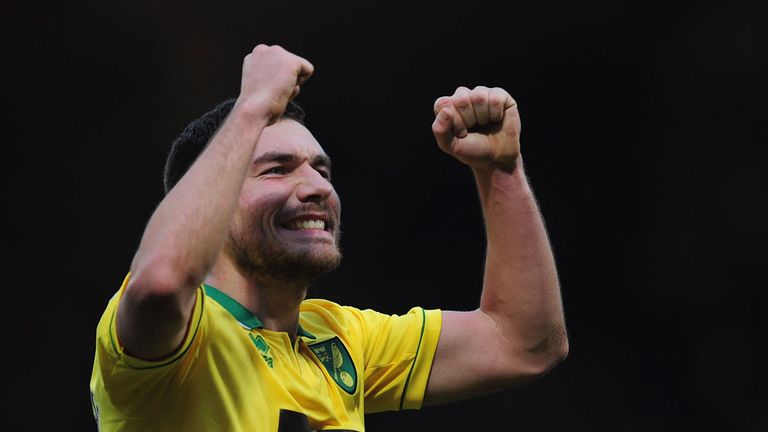 The Scotland midfielder has learnt the value of conditioning since he began his career with Livingston and he is confident a more professional approach can bear fruit.
"The fitness coaches show you your numbers, and as an individual you try to beat that each week, so with me running six or seven miles, it is about trying to help the team," he said.
"When I was at Livingston, I didn't really have the advice you have these days.
"I have learned off each nutritionist or fitness coach how to get your body in the best possible shape for match-days, because that is what managers want.
"This Premier League is about high-energy and athletes. It is about preparing yourself from Monday to Saturday so you can be in as good a shape as possible, mentally and physically for a game.
"We have got a great nutrition and fitness side of things and that is why people have noticed this season that Norwich do work very, very hard.
"People can speak about it taking individuals to win games, but if those individuals are not on their day, then you look for a team (effort) to pull you through - maybe Sebastien Bassong or Michael Turner flicking one in on 94 minutes to keep us in this league.
"We know what it takes as players and as a team - the most important thing is we get the three points and everyone as a club pulls in the right direction."
Ruthless
Despite their industry, Norwich head into Saturday's clash having recorded just one victory in their last 11 Premier League games - and that courtesy of a stoppage-time winner from Grant Holt to beat Everton.
Snodgrass accepts the team have to be "more ruthless" if they are to avoid being dragged into a battle for survival, currently with a safety net of eight points.
"We have put in some good performances, but just not scored enough goals and so need to be more clinical, if we can do that on Saturday then we will get three points," said Snodgrass, who has weighed in with five goals.
"As a winger, you try to put as many crosses in as you can.
"It is simple, we just have to put the ball in the back of the net, which is why the gaffer has said we need to be more ruthless.
"Maybe it is just about that little bit of magic in front of goal, whatever it is, we need to add that to our game."