Javier Garrido determined to avoid pain of relegation with Norwich
Norwich defender Javier Garrido is determined not to experience the pain of relegation for a second time in his career.
Last Updated: 06/04/13 2:25pm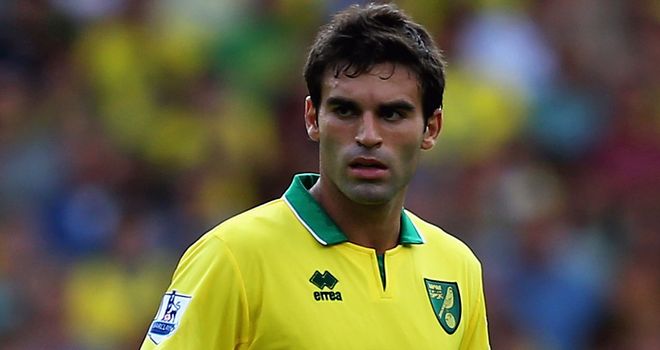 The Spaniard was a member of the Real Sociedad team that tumbled out of La Liga in 2007 and wants to avoid the same fate with the Canaries.
City are only four points above the Premier League drop zone with seven matches remaining ahead of Saturday's home game against Swansea.
"Unfortunately I got relegated and it was a black point in my career. It was very disappointing for everyone, including the supporters," said Garrido.
"Now I think we need six more points, 40 points will be enough, maybe less. The perfect thing would be to win two or three more games. The most important thing, though, is to have the sensation of winning this game. If we won we would breathe better.
"The mentality is to go out to win. Norwich have to beat Swansea. From the first minute we need to show we are footballers.
"The players and the fans want to play in the Premier League next season. It is one thing to be in the Premier League where everything is perfect, it is another thing to be in the Championship."
Former Manchester City full-back Garrido is currently on loan from Italian club Lazio but he can see his future at Carrow Road.
"I feel so comfortable here," he added. "Personally I would love to stay here because I am happy.
"But we need to improve. We have quality up front. When the team don't score the focus is on the strikers but everyone has to help the strikers to score. We need to score more goals."
Chris Hughton's side, in fact, have scored just five times in the league this year and 28 in all this season with only Stoke (27) having scored fewer in the Premier League.
Garrido remains upbeat, although he recognises League Cup winners Swansea, who are ninth in the table with 40 points, carry a considerable goal threat, especially from fellow Spaniard Michu.
"The team is confident," said Garrido. "The spirit is good and it will be a perfect time to play Swansea. It doesn't matter if we play good, the points are what are necessary, not just for us but for everyone at the bottom of the league. It is a very important three points for us.
"Michu has been brilliant for Swansea. They won a title and are in a comfortable position in the table. They play quality football. They do not need the points as much as us but they will come to show what they can do."
Home advantage is what Norwich, who beat Swansea 4-3 in the corresponding league game at the Liberty Stadium in December, believe will determine their fate and crucially four of their last seven matches are at Carrow Road where they have posted memorable victories this season.
Garrido said: "At home we have shown against Manchester United (1-0), Arsenal (1-0) and Everton (2-1) what a tough place it is to come."
Goalkeeper Mark Bunn returns to the Norwich squad after suspension and Alexander Tettey has recovered from a knee injury.
Manager Hughton added: "Our home form will be important. We have to use that advantage with the tremendous support. We need to give them something to shout about. It is a very big game."