Premier League: Norwich striker Kei Kamara has no hard feelings towards Stoke
Norwich striker Kei Kamara says there will be no hard feelings when they face Stoke on Saturday.
Last Updated: 27/04/13 2:34pm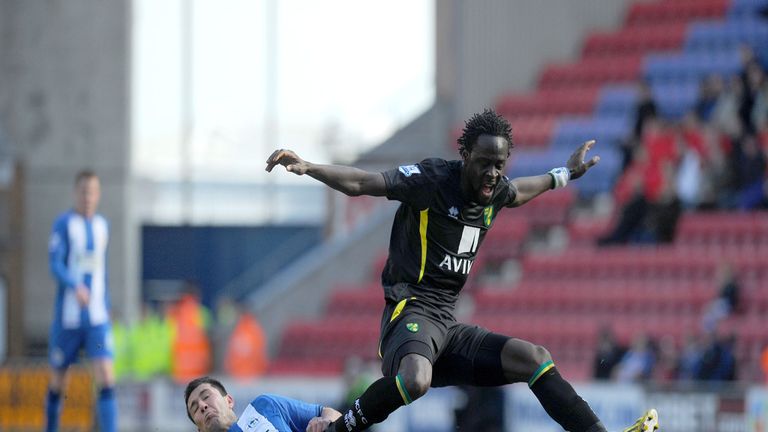 The Sierra Leone international had a 10-day trial with the Potters four months ago after which manager Tony Pulis decided not to offer him a contract.
Chris Hughton was happy to take the Sporting Kansas City to Carrow Road on a three-month loan though, with the 28-year-old impressing the Canaries boss in scoring one goal in six matches.
His aerial prowess will be welcome against Stoke as Norwich look for a victory that would help ease any relegation fears and Kamara insists he enjoyed his brief spell in Staffordshire.
"I had some good training sessions in my 10 days at Stoke and was able to play one of my (practice) games with Michael Owen up front," he said.
"I felt like I could have fitted in because I was more of an aerial threat but it didn't work out.
"Everybody has a different opinion and there's no bad blood, no disrespect to the coaching staff over there.
"Everybody sees something different every day. I mean, before I had my fiancee someone else was with my fiancee who didn't like her. They left her and I got her and I think she is the best woman ever.
"It's just how it is. I was just excited to train with a Premier League side. I said thank you for the opportunity and went back home."
As for the game with Stoke, Kamara realises it will be a typically tough physical encounter but feels they can mix it with anyone.
"I don't know what their game plan will be but watching Stoke it has always been a tough game," he added.
"It's about set-plays and who gets to the ball first but we have a team with physical guys too."
Kamara was impressive while partnering Grant Holt up front in the victory against Reading last weekend and admits the experienced striker has been his "mentor" since he arrived in England.
They sit next to each other in the changing room and Kamara has been soaking up the education. Now he wants another goal or two in the last two games of his loan spell before his scheduled return to Kansas.
"That would be storybook," Kamara said. "I think I have shown a bit of what I can do but I definitely feel I can do a lot better.
"To catch up with the other guys and the flow of the game takes a bit longer than the six games I've played."