Javier Garrido relishing return to Manchester City with safety assured
Norwich defender Javier Garrido is looking forward to playing his friend David Silva on Sunday.
Last Updated: 19/05/13 3:40pm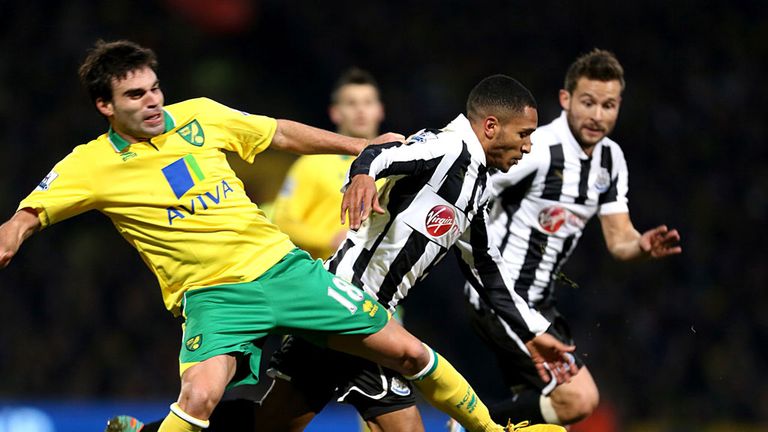 Norwich go to Manchester City with their Premier League safety assured thanks to last week's 4-0 win over West Brom.
Garrido will be back at his former club, where he will be up against fellow Spaniard Silva.
The pair came up together through the Spanish national ranks and while defender Garrido played from Under 15 to Under 21 level with Silva, he has not kicked on to break into Spain's senior side in the manner of the City midfielder.
Garrido said: "I have got a very good relationship with him. I texted him three or four weeks ago and he told me that for us it would be better to have the job done (avoid relegation) before we play at City.
"I have good memories of my time at City but the owner was putting in lots of money for new players and that put the level so high and when you are involved you are happier than when you are not. But in general I was happy. It was my first time away from Spain."
Garrido made 49 appearances for Manchester City between 2007 and 2010 before moving to Lazio, and then Norwich on a season-long last summer. He signed a new two-year deal this week and he admits he could not be more delighted.
"Ever since my first day here my main thing was to join permanently," he said.
"They have shown confidence in me. I have played so many games and have been comfortable with everyone.
"After the last game against West Brom I was so happy because I knew I would be here permanently. It was a good moment for me. It is always tough to go to Manchester and get a good result. But we don't have any pressure.
"I admit I was a little bit worried (about relegation). In the Premier League it is difficult to get points.
"Everyone was a little bit worried, but in the end the team showed their character and the result on Saturday was amazing.
"You had to see the dressing room to see how happy everyone was. The job was done. But now we need to finish well and next season everyone has to improve.
"I am the kind of player who always wants to improve. Next season will be exciting."