Sebastian Bassong targets upset victory for Norwich at White Hart Lane
Sebastian Bassong returns to White Hart Lane on Saturday confident Norwich can pull off an upset.
Last Updated: 14/09/13 2:19pm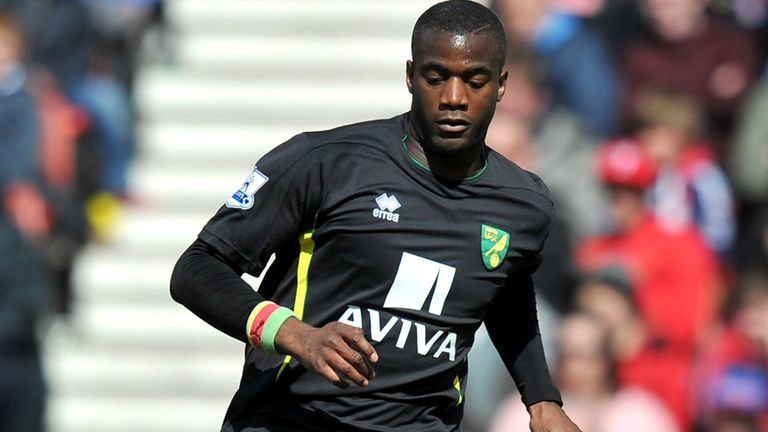 Bassong played 45 times for Spurs between 2009-12 under Harry Redknapp. He will go back as Norwich captain, with the Canaries confident after their victory over Southampton a fortnight ago.
Bassong said: "They were great years at Spurs for me. I learned a lot playing in the Champions League with William Gallas and having Harry Redknapp as manager taught me a lot too. It gave me experience. I have had bad times too, but I am happy because I wouldn't have been the player I am today.
"It is a great honour for me to be captain. There is a lot of responsibility. That's good for me. It doesn't change much for me. I used to be really vocal anyway so I have just stayed the same. You want your team to do well."
Norwich spent £25m on players this summer - an unprecedented amount for the Norfolk club - but that figure is dwarfed by Tottenham's spending - roughly four times more, funded by the sale of Gareth Bale to Real Madrid.
Bassong said: "They've been busy in the summer and bought some good players. Gareth Bale has gone, but it will still be a tough game.
"Everything says Spurs are a better team than us, which is true, but we will work hard and see what comes.
"The quality players have to adapt to the Premier League. It's up to them how they work at training. I hope they'll not be ready, but even if they are we will give them a good challenge."
Bassong could be tasked with marking striker Roberto Soldado, who arrived from Valencia.
"I've seen Soldado," said Bassong. "I watch a lot of Spanish football. He's a goal-scorer, a real threat in the box and we will have to be careful.
"But there is no pressure playing Spurs or Manchester United or any of the big clubs. They are meant to be better than us but if we give our best maybe we can catch something good.
"The win against Southampton gave us a boost. We are in a good mood."