Anthony Pilkington says Norwich are confident ahead of Chelsea visit
Anthony Pilkington hopes Norwich can repeat last year's heroics against Man Utd and Arsenal by beating Chelsea.
Last Updated: 06/10/13 2:22pm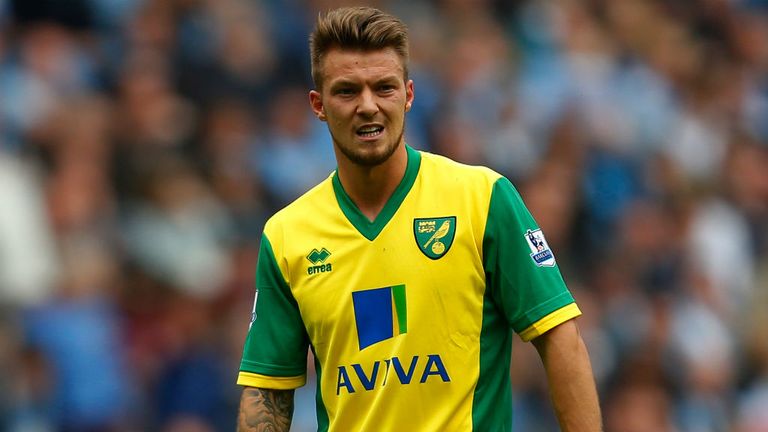 The midfielder returned to Norwich's starting line-up for the victory against Stoke last week after being sidelined with an injury.
And the 25-year-old admitted Norwich always have an extra spring in their step when the Premier League's bigger clubs visit Carrow Road.
"Last season when we got results at home against Manchester United and Arsenal the tempo was really up there," Pilkington said. "We were in their faces and picked up some really good points against the really big teams and we'll look to do that again.
"Even though we are all professionals, everyone loves playing against the big teams in the big games. As a player, I can tell you first hand that when you get games like Chelsea, Manchester United and Manchester City, you enjoy it a lot more.
"You always seem to put in that extra yard and do that bit more than maybe you would against a Stoke. But last week we did really well and came away with a good result. We were really confident and hopefully we can take that confidence into Chelsea on Sunday."
Pilkington also revealed his admiration for Chelsea manager Jose Mourinho and acknowledged Chelsea would be a stern test for Norwich after their impressive 4-0 victory over Steaua Bucharest in Romania on Tuesday.
"He's one of the best," Pilkington said of the Portuguese. "Look at his record and his trophy collection. His house must be massive with all the trophies he's got to fit in there.
"He's a great manager - probably the best in football now Sir Alex Ferguson has stepped down and Chelsea are up there again challenging.
"They got a good result in midweek and it's going to be tough for us. But the boys are confident, they look sharp, the mood's up again and it's amazing what a good win like last weekend can do for you.
"Hopefully he (Mourinho) won't be going home happy on Sunday."