Capital One Cup: Robert Snodgrass in hospital after Norwich beaten by Manchester United
Norwich midfielder Robert Snodgrass was taken to hospital after being knocked out during his side's loss at Man Utd.
Last Updated: 04/11/13 9:11pm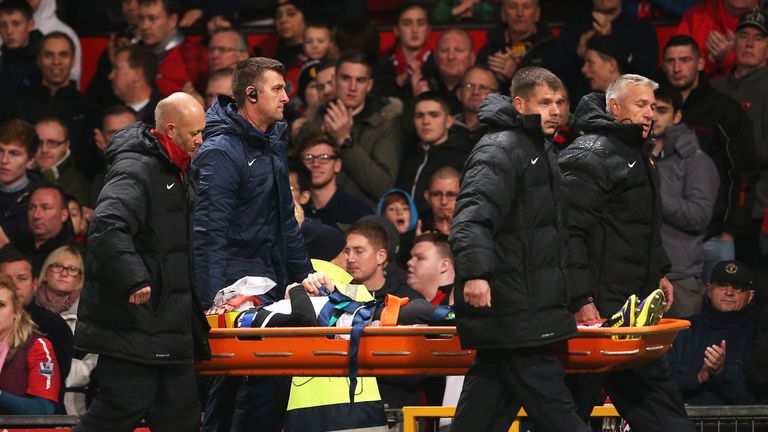 Play was halted for around eight minutes after the Scotland international clashed heads with United defender Rafael in the second half of the Canaries' 4-0 defeat at Old Trafford.
Manager Chris Hughton said: "He's gone to a local hospital.
"I think that is very much a precaution, he was out for a period of time. It is very much concussion.
"He has also taken a whack in the incident itself so they will have a look at that and X-ray that just to make sure there is nothing broken.
"But by the time he was on his way out he was awake and aware of what was happening around him.
"Whether he will he kept in overnight or not, I don't know."
The injury to Snodgrass compounded Norwich's misery on a disappointing night.
Javier Hernandez struck twice for United, opening the scoring from the penalty spot and then doubling the advantage with a header early in the second half.
Phil Jones volleyed the third and substitute Fabio completed the scoring as the game went into 11 minutes of stoppage time.
Hughton was unhappy with the award of the penalty which led to the opening goal, which was given after the impressive Adnan Januzaj went down under a challenge from Leroy Fer.
Hughton said: "Could our performance have been better? Yes, we could have been better on the ball.
"But we were given a penalty against us which was incredibly soft and not a penalty.
"To have a penalty given against us, in that fashion, as soft as that, really gives Man Utd a lift and deflates you.
"But they scored good goals, they have got great quality and they are clinical in everything they do."