Norwich manager Chris Hughton targets win over weary Swansea City
Chris Hughton has challenged his Norwich side to record back-to-back wins at the expense of a travel-weary Swansea.
Last Updated: 15/12/13 12:56pm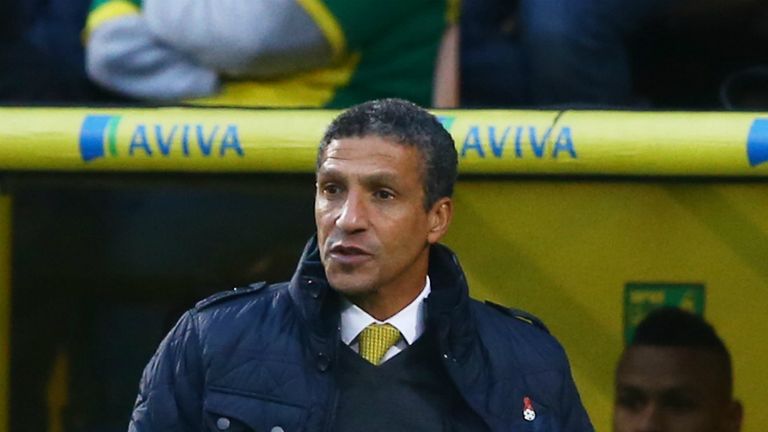 The Swans had a nightmare trip to Switzerland in the Europa League this week - their flight was delayed for 12 hours due to fog and then a small earthquake woke up the squad in the middle of the night before the 1-0 defeat to St Gallen.
Despite the loss, Swansea progressed to the next stage of the competition and Hughton expects them to visit Carrow Road in good spirits on Sunday.
"It's been a tough week for them but they have got through to the next phase of the Europa League so it has been a successful midweek for them," said Hughton.
"You can always turn those things around. It might be a situation that galvanises the players. They are going to need to dig deep at the weekend.
"What we do know is that they have got very good footballers and a very good squad.
"The fact that they are in the Europa League shows how far they have come. We have to do our job properly. We would expect them to show quality.
"We have to make sure that we take advantage of the fact that we are playing at home and in good form and have a burning desire to get three points on Sunday.
"We are on the back of a good win away from home. We have to look at it as an opportunity to put back-to-back wins together."
Norwich's win at West Brom last Saturday saw them rise to 14th place in the Premier League and reduced what was a growing pressure on Hughton.
It also saw striker Gary Hooper score for the fifth time this season and every time he has scored Norwich have won.
"We know his qualities and that if we are able to provide the opportunities for him he has every chance of scoring goals," said Hughton.
"He's working hard, his fitness levels are very good but we have to provide him with a service. He is one of those players who can create something in very tight areas.
"I don't want to see Gary just as a goal scorer but as a hard working member of the team. He has always scored goals and so long as we provide him with a service you'd like that to continue."